When Lisa Walker sent her heroine out on a pilgrimage to visit all the Big Things in the Northern Rivers and Queensland for her latest novel, it added a wonderfully irreverent twist to the idea of a sacred quest writes Candida Baker.
It's not often that you get to meet a writer who knows how to build an igloo, but Lisa Walker, the author of the recently released Arkie's Pilgrimage to the Next Big Thing, could, if push came to shove, rustle you up an igloo in less than a day.
"A small one," she says, recalling her days as a guide for Wilderness Expeditions in the Snowy Mountains. "We used to take people skiing to the back country and we'd teach them snow skills experience. We could build an igloo and sleep in it for a couple of nights, and of course it's much warmer than sleeping in a tent. It's a half-day job for two or three people."
There's not much need for igloos in the Northern Rivers where Walker and her husband have lived for the past sixteen years, but Walker's love of adventure and travel has stood her in good stead for creating the delightfully quirky Arkie, who sets out on a personal pilgrimage to find Australia's 'Big Things'.
"Mind you," says Lisa, "Arkie doesn't actually like adventure and camping, and I do, but she makes these decisions which lead to a life on the road, and she learns that she has to embrace her pilgrimage in order for it to teach her anything."
Walker, who is quickly becoming a writing hit with novels such as Liar Bird and Sex, Lies and Bonsai preceding Arkie's Pilgrimage, begins the novel with a cliffhanger. Arkie is in Byron Bay on New Year's Eve, her marriage and her career in ruins, and she has decided to throw herself under the next train into Byron Bay. Those of us who know the town well, will immediately spot the flaw in this plan. There is no train service in and out of Byron any longer, but Arkie hasn't checked, and is sitting, waiting on the platform. Along comes the enigmatic Haruko who talks Arkie out of the suicide she wouldn't have been able to commit anyway, and off the two set, partners in a wonderful Australian version of the classic pilgrimage.
One of the reasons that Arkie has decided to personally view as many Big Things as she can is that until recently, she herself was a trendspotter – someone who could spot the next big thing coming along a mile off, and alert the consumer market that it's coming.
"I got the idea when I read an article about Li Edelkoort, the Dutch trendspotter who is the oracle behind Trend Union – a company that forecasts trends for retail industries," says Walker. "She's known to have amazing intuition. She consistently gets it right."
But Arkie is in trouble. Bored in her marriage, she had an affair that ended badly, and she's convinced that she's lost, as well as her husband and lover, her mojo. Her husband has decided to divorce her, and has hired a divorce lawyer to pursue her and force her to accept the divorce papers, and Arkie is doing her absolute best to avoid them, whilst darting all over Queensland and Northern New South Wales, ticking off our fabulously tasteless Big Things – the Big Pineapple, The Big Prawn, The Big Macadamia etc. Japanese temples they are not, but it brings a wonderfully irreverent touch to the idea of the pilgrimage as a sacred journey.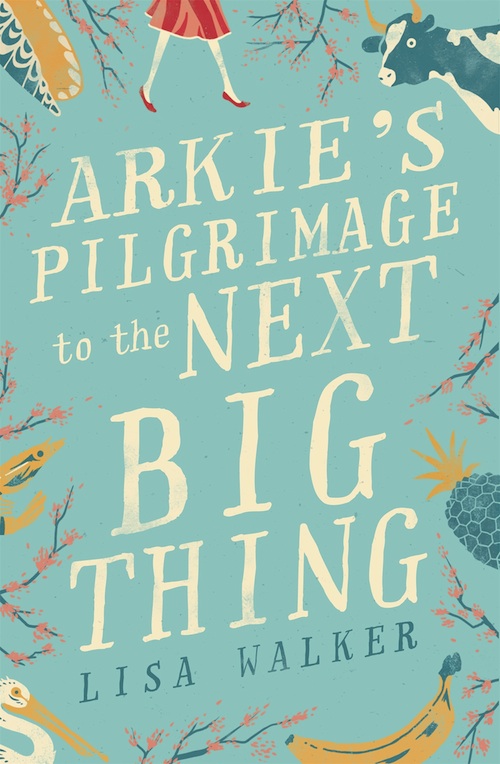 As for the presence of Haruko in the novel, she serves many purposes. "I've been to Japan quite a few times in the past few years," Walker says, "and I was really surprised by how wild and crazy the Japanese girls are. We have this idea that Japanese girls are very proper, but they're not at all like that. We – the family – went for the skiing, but I fell in love with the culture. I did a temple tour as well, and loved it, and I've been back three or four times since then."
Haruko is a cheerful character – inscrutable, with a great dress sense, and apparently not only sure of herself but happy to take on the somewhat hapless Arkie and re-instill her with a sense of self-worth. It becomes obvious as the novel progresses that theirs is an almost karmic connection, and much of the novel has a sense of unfolding destiny, which gives the narrative a layer of extra meaning. It isn't often that fiction writers manage to combine the themes of comedy, philosophy and religion successfully, but Walker pulls it off.
"I watch the highway go by and ponder my situation. I am on the run from my husband's divorce lawyer, my mojo is still missing in action and my demon ex-lover is lurking . . . But, all things considered, my pilgrimage is going well …"
Walker tells me that her next novel is about a girl living in Brisbane but with an obsession about Paris, and it occurs to me that obsession is a common occurrence in her books. Characters become fixated on other characters, or on places, or on an idea, and I wonder if she is at all obsessive in her personality. She laughs. "Just a bit," she says. "One of the things I do myself, and my characters do a lot of, is dreaming about where you're not. I dream about places, obsess about them, read travel books…in a way it's like the writing process, except that by the time I've created this full-on picture of the place I'm obsessing about I don't want to go there anymore – I've lost all interest!"
Despite having three books published over the past few years, Walker says that each book is a challenge. "People have said I'm prolific, but I don't feel prolific," she says. "I struggle to get my 1000 words a day done." These days her wilderness experiences are a bit more mild than igloo-building – she works across the Northern Rivers as a Community Relations Ranger with National Parks and Wildlife. She and her husband and their two boys live in Lennox Head – within, as it turned out, easy reach of Arkie's Big Things. "I did start out with much more ambitious ideas for her 'pilgrimage'," Walker says, "but in the end containing the journey made the book more manageable."
I'm not going to give away whether Arkie discovers the meaning of life, recovers her mojo and repairs her marriage – you'll have to take your own journey with the book to find out, but you won't be disappointed.
---
Arkie's Piligrimage to the Next Big Thing published by Bantam Australia, RRP $32.99, 368pp
See more at: randomhouse.lisa-walker/arkies-pilgrimage-to-the-next-big-thing
For more information on Lisa Walker go to: lisawalker
Comments
comments