The summer holidays are coming to a close, but if you haven't managed to get away – how about a 'staycation'? Living in one of Australia's top tourist destinations has its advantages, such as these top five wonderful retreats, writes Georgina Bible.
The Koonyum Range Retreat
The Koonyum Range Retreat (see main photo)  is the perfect fit for those wanting a staycation in panoramic mountain-top seclusion but within half an hour of the bustle and beaches of Byron Bay.  Perched on a cliff behind Mullumbimby, the luxurious bed and breakfast features sweeping views across emerald valleys down to the ocean. The views from Koonyum could actually be listed as a form of therapy.  The retreat offers a range of massage therapies for singles and couples, including deep tissue, remedial as well as a special massage for pregnancy. Rejuvenate your skin with a selection of beauty treatments, including purifying clay facials and aromatherapy salt glow for the body. Therapists use only certified organic products. Private yoga lessons are available – instructors will come to your villa and lessons can also be taken by the pool.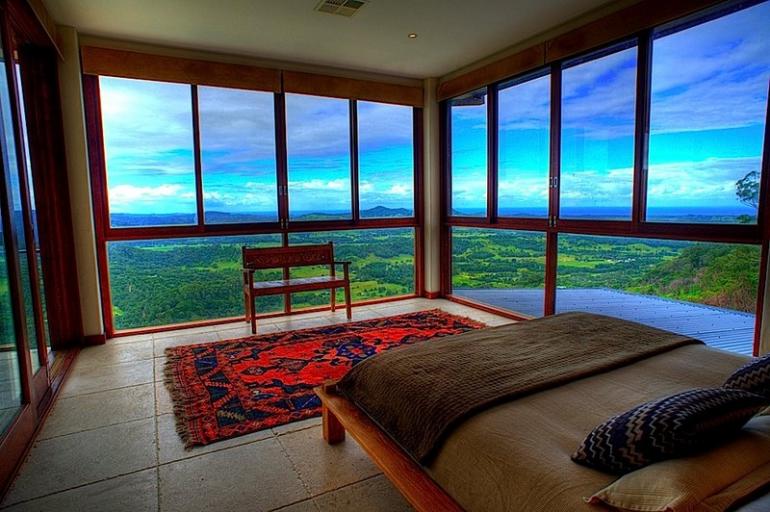 Koonyum has several in-house dining options with all meals featuring organic produce where possible. Choose from a three course gourmet meal to home-made pizzas – all delivered to your secluded terrace at a time of your choice. For those inclined to cook, all accommodation options feature a private kitchenette or kitchen (Koonyum Villa) as well as a BBQ and basic cooking ingredients. There are six accommodation options, including villas, a poolside studio, a main house and a Bali in Byron Luxury Holiday Rental.  Several villas have their own private outdoor hot tubs but all guests have access to the retreats' stunning infinity pool with its views over the mountain range to the coast. Koonyum offers an assortment of tailored packages, including a Honeymoon – from $1545; Health & Wellness – from $1355 and Elopement – from $1950. To book call 02 6684 0350 or visit www.koonyumretreat.com.au/
Gaia Retreat & Spa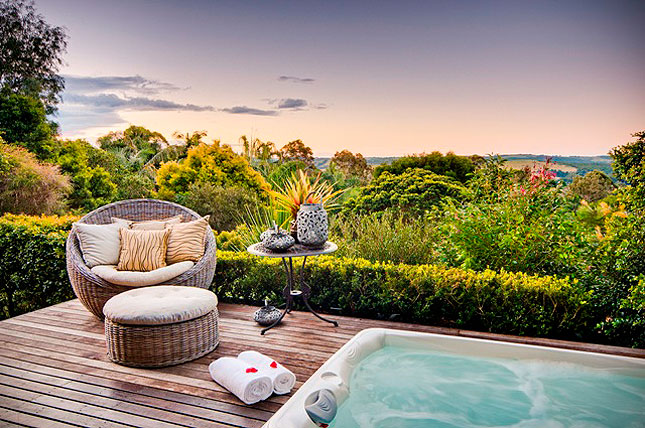 In need of a staycation for the body and soul?  Olivia Newton John has merged the organic with the elegant to create a retreat that may well be the Xanadu of rest and rejuvenation. Tucked away amidst rolling green hills within a 10 minute drive from Bangalow, Gaia Retreat & Spa caters for the solo 'staycationer' wanting time out, couples needing a getaway and groups wanting time together.  Guests are encouraged to leave their mobiles and lap tops at home, although access is available. When you first glimpse the Gaia Day Spa menu, you understand the buzz around the place. The Spa offers an exhaustive list of treatments and sessions, including at least 16 types of massage such as Swedish, kahuna and shiatsu. Indulge in a body polish or masque, or perhaps a hands and feet session followed by a specialised scalp treatment. One look at the choice of alternative therapies and healing sessions and you know you are in the Byron Shire – try reiki or craniosacral balancing or sign up for a meditation, hypnotherapy or astrology session.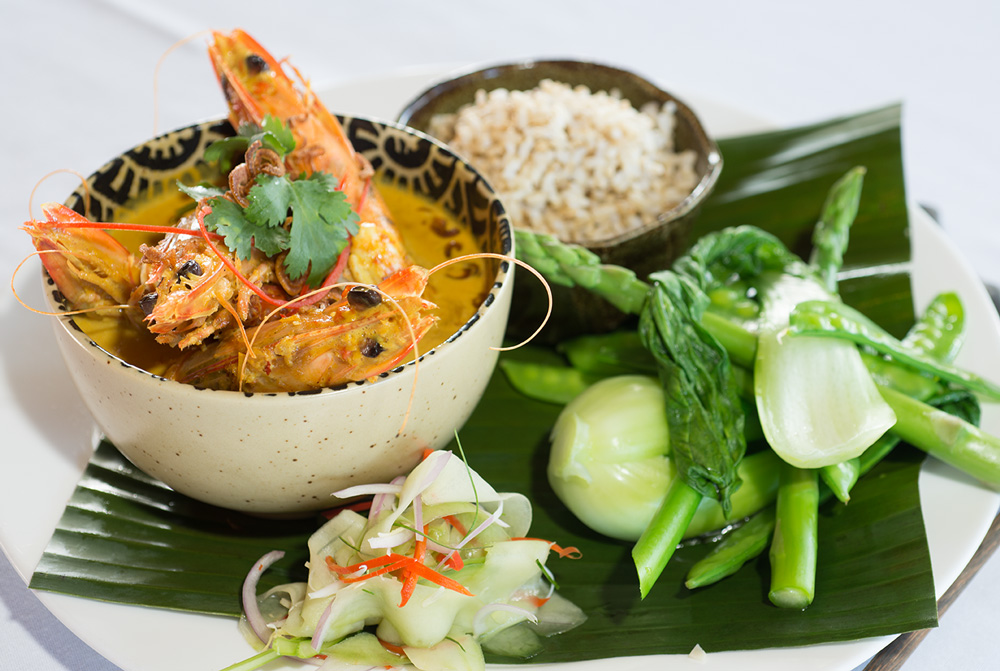 For those feeling active, the retreat offers a fitness centre, tennis court, swimming pool as well as classes in yoga, pilates and tai chi. By this time you should be ravenous. With an approach to wellness, the food at Gaia is organic and sourced from local suppliers, including from Gaia's own organic garden. The day starts with a lavish buffet and hot breakfast, followed by a light lunch, while the evening meal is a three course fine dining experience that includes a list of Australian and organic wines. Gaia offers five accommodation options set in subtropical gardens, with each bungalow or room built to reflect the surrounding environment with their warm earth tones and use of timbers. There is a selection of retreat packages available, with a tw0-night Spa Retreat Special starting from $1145. To book call (02) 6687 1216 or visit www.gaiaretreat.com.au
Wollumbin Palms Retreat at Mount Warning
Have you ever fancied a weekend away at Bag End with Bilbo Baggins and co?  Well, you don't need to leave the Northern Rivers – Wollumbin Palms Retreat at Mount Warning offers three themed accommodation choices, including a Hobbit inspired Earth Lodge where a complimentary basket of hot bread is lowered down to you on a hook each morning. Wollumbin Palms is set on 80 acres of rainforest and located 15 minutes from Murwillumbah. Guests enjoy ultimate seclusion – there is a third of a kilometre of rainforest between each lodge. For those wanting a staycation with family pets, the resort welcomes well mannered, small to medium size dogs though rules do apply.  For those in need of pampering the retreat offers a range of spa services, including facials, kahuna massage and a special Indian head massage. A selection of alternative therapies, such as reiki and reflexology as well as emotional healing sessions, including Hawaiian shamanic healing and healing with art can be arranged. Sessions in Dru Yoga and guided meditation are available.
The resort offers a dinner menu with a focus on fresh local organic produce where possible. Breakfast hampers include bacon, eggs, espresso machines, organic Merlo coffee, teas, marmalade and homemade bread. All meals are delivered to your door. Time to choose your lodge. For lovers of Bali the Water Lodge has been built to resemble an ancient Indonesian palace. Overlooking a lake where platypus play, the Water Lodge features a king sized bed suspended from two intricately hand carved teak joglos, or canopies. Add a spa, fireplace and day bed and you will never want to leave. Perched high in the rainforest, the Yurt is reached by a 16 metre footbridge. The Yurt features a king sized bed, spa, a fireplace and an extra outside hot shower and hammock among the palm trees. For those who want to be Hobbits, the Earth Lodge is built entirely of rock, stone and timber. Featuring glass walls with magnificent views to Mt Warning, Earth Lodge has a spa, fireplace and a telescope for watching the stars from your balcony. And don't forget the basket of hot bread on a hook each morning. It's also dog friendly for those that don't want to leave their pets at home. Rates start from $395 per night but are subject to seasonal variations. Special packages are also available. To book call 02 6679 5063 or visit https://www.wollumbinpalms.com.au/
The Byron at Byron Resort and Spa
The Byron at Byron Resort and Spa is the perfect choice for those wanting a staycation within striking distance of Byron Bay but out of the madness. About a five minute drive south of the town, this award winning slice of chic combines luxury accommodation with a gorgeous rainforest backdrop. Oh – and it happens to be conveniently located behind a wild section of Tallow Beach. If your body is in need of pampering then drop by The Spa, which offers a sauna room, jacuzzi and more than 30 treatments that range from massage to beauty treatments to esoteric healing. The resort also offers a complimentary daily yoga class that begins each morning at 8am on the deck overlooking the sparkling infinity pool.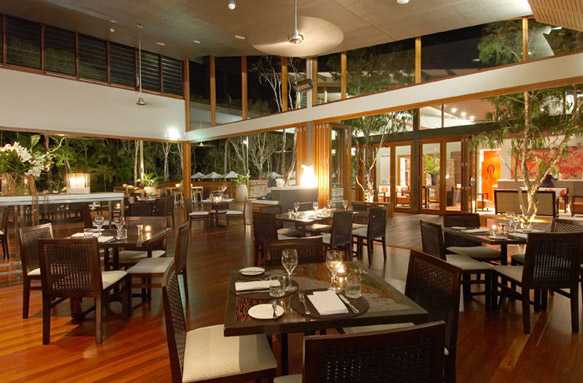 If you enjoy bird watching then there's the option to take a self-guided tour though the rainforest via a cleverly designed boardwalk. No doubt your stomach will need attending after all this – not to worry. The Restaurant at The Byron at Byron features a menu that showcases the best of Northern Rivers produce. Ready for bed? The Byron at Byron offers a choice of Standard Suites, Superior Suites and Delux Spa Suites. All suites are spacious and feature a galley kitchen with dining table, day lounge, plasma TV, extra LCD TV in the bedroom and a super sumptuous California king bed. For those seeking extra privacy, three two story luxury houses are also available. Rooms normally start from $281 per night but are subject to seasonal variations. https://www.thebyronatbyron.com.au/
Rae's on Wategos
Fancy bumping into Elle, Paris or Gwyneth on your Northern Rivers staycation? Then book a room at Rae's on Wategos, known the world over as the second home to the rich and famous. Perched like a palace on the hill overlooking Wategos Beach, Rae's is a perfect blend of luxury and uber-cool. It made the top 25 hotels of the world by Condé Nast Traveler magazine, but don't be intimated – Rae's opulence is toned by its eccentric Mediterranean and Moroccan influences. The hotel features the Rae's Day Spa – an intimate rejuvenation centre that offers everything from massage to skin care therapy to ritualistic body treatments, and is a favourite of Elle Macpherson.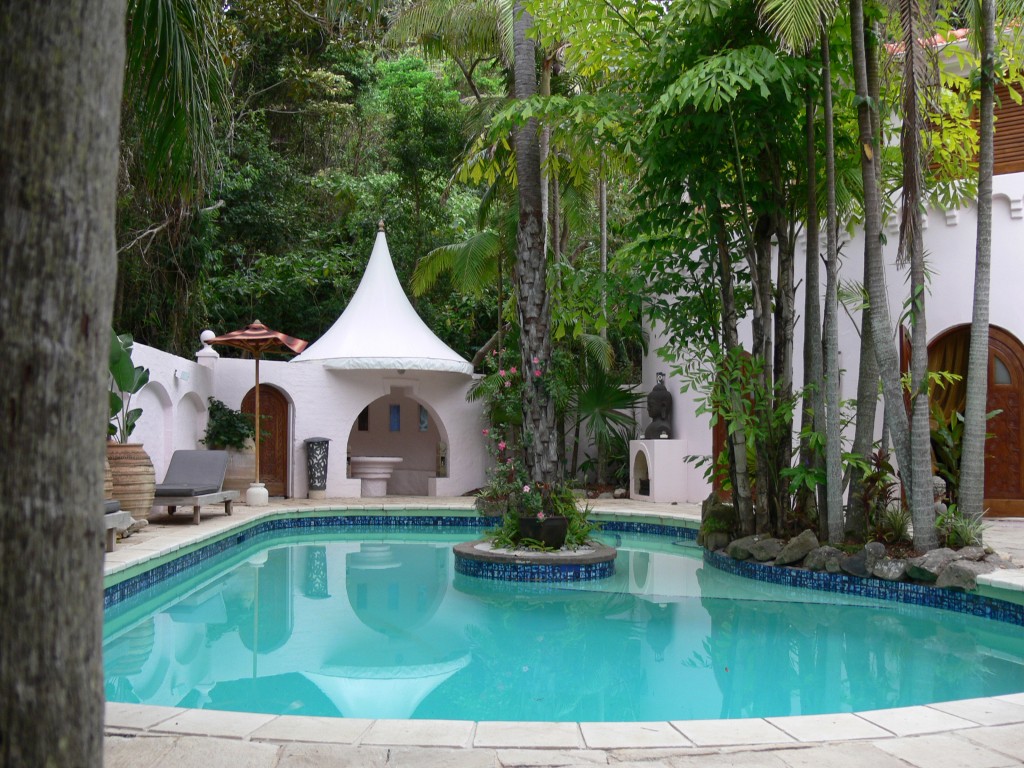 When hunger strikes you, then join the likes of Paris Hilton on the terrace at Rae's Fish Café. The Café serves up stunning ocean views with a seafood menu that has often been celebrated as Byron Bay's best. Once satiated, the hotel offers guests seven luxury accommodation options, ranging from garden suites to ocean view penthouses. No two rooms are the same at Rae's – there are no stock-standard doors or tiles here. Each accommodation option offers original furnishings and finishing touches, such as the arched doorways and mosaic tiled bathroom of the Moroccan Suite to the marble floors and sunlit atrium of the Mirabella Penthouse.  Suites start from $330 per night while penthouses begin at $615 per night – but all accommodation options are subject to seasonal variations. To book call Rae's on (02) 6685 5366 or visit https://raesonwategos.com/
Comments
comments