It was a dream come true for Verandah Magazine publisher when she finally got to ride one of the famous white horses of the Camargue. She also discovered one of the most diverse, and beautiful regions of France.
 When I was a five-year-old, living in London, my father went on holiday to France, and visited the Camargue region.
Knowing already what his horse-mad daughter would want as a present he brought me back a book – Crin Blanc – (English translation: White Mane). It was black and white still shots from the 1953 short movie, which told the story of a young boy who tames a wild white stallion, Crin Blanc, so infuriating the locals that they hunt the pair, until the boy and the horse choose to disappear forever into the sea. The film won numerous awards including the short film Palme d'Or at the Cannes Film Festival.
Along with Black Beauty, My Friend Flicka, Tam the Untamed (any Australian readers remember that now very politically incorrect book?), Champion the Wonder Horse and a bit later The Silver Brumby, Crin Blanc became one of my all-time favourite books. It was in French, but the story was pretty self-evident, and from the time my father gave it to me, I was determined that one day I would go to the Camargue and ride a horse. (In fact as I child I was determined I would go and tame a wild stallion and bring it back to England, but dreams do become more realistic as we get older!)
So there I am – 57 years (yes you read that correctly) later, cantering along on Tato, or actually more like galloping along on Tato, a sturdy 14.3hh perfect representation of his breed, in the company of the manager of the ranch I've chosen to ride at. He's on his part-bred Camargue/Lusitano five-year-old who still thinks every stick is a horse-eating monster, whereas Tato, fortunately has seen it all before. Despite that, though, he's definitely forward, keen to go, soft-mouthed, and easy to ride.
There's a minute, as we gallop along the edge of a small river, which has a herd of young horses, foals and mares on one side, and on the opposite side a large herd of the famous Camargue black bulls, where I actually have time to think – "This is the perfect moment."
I have had, as the French say, 'la chance', because the threat of wet weather has kept everybody else away. Thanks to having spent a year working in French stables as a teenager, my 'horse' French is up to par enough so that at least Patrick, the manager of La Cabane du Daladel, and I can communicate on all aspects of horse care. Patrick is training his young horse, Crom, for bull-work, one of the main disciplines for the Camargue horses.
It's a sad fact that there are actually no herds of true wild horses left anymore, but the reasoning behind the decision to allow registered breeders was to stop in-breeding or accidental diluting of the bloodlines.
In 2003, three registration categories were created to identify Camargue horses: one the pure Camarge – horses registered in the stud book, foaled and identified in the Camarge, branded before weaning and from a 'manade', a small semi-feral herd of which only 45 exist; the Carmarge hors manade – horses registerd in the stud book, foaled and identified in the Camargue from the select list of private breeders and the Camargue hors bercau – horses registered in the stud book, foaled and identified outside of the Camarge to registered breeders.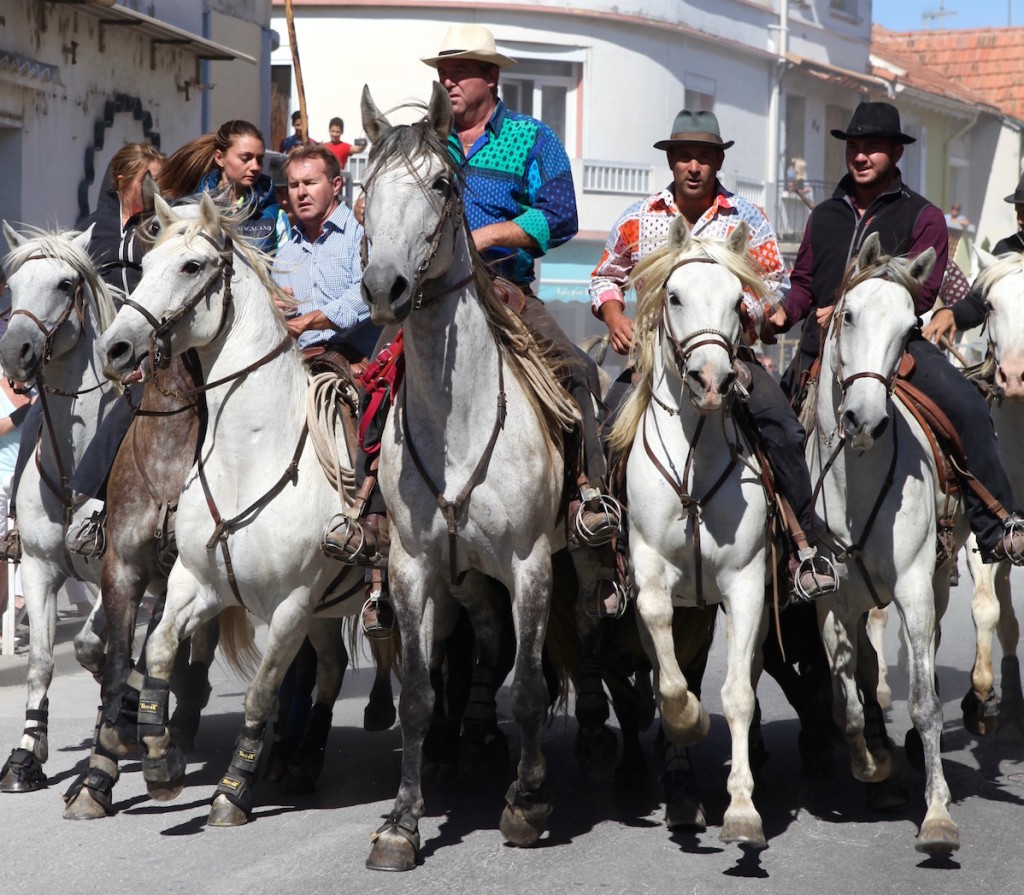 Thanks to these measures, the ancient blood-lines of the Camargue horses, considered to be one of the oldest breeds in the world, will be safe forever. For thousands of years these horses have lived in the delta of the River Rhône, a wetland marshy area which these days is a massive national park.
Patrick tells me that the Camargue horses in the main live a: "good life". Those brought in for regular trail-riding work – which of course if the fate for many of them – are lucky. "They work from April to October," he says, "and then they go back out into the marshes."
And when he says marshes, he means marshes. When we are not trotting or cantering along the sandy paths between the lakes and wetlands, we are picking our way through water which varies from a few inches deep to well up to Tato's stomach, so that we are almost swimming and my feet are somewhere around Tato's head trying to keep my boots dry!
What is extraordinary to me is that not only do these horses cope with this environment, they positively thrive on it. Thanks to the fact that the water of the Rhône is sweet rather than salty, the somewhat unappetising looking stringy grasses are apparently full of nourishment, and the marshes too are full of herbs and different sorts of grasses. Patrick tells me working horses are fed once or twice a day, but normally just with hay, and are usually let out at night to graze. I have to say I did not see one skinny horse during our four-day visit there.
I don't know about other 'ranches' but at La Cabane du Duladel when a horse reaches retirement age from its work, it's put out to pasture with the foals and mares, until, as Patrick elegantly puts it, "one day we find him asleep forever".
So one thing (as a vegetarian) that concerned me of course, is the 'bull' work, but in the Camargue, it is literally that, rather than bull-fights. The 'guardians' – horse-riders – use their horses to round-up the bulls, but also in fetes and street events throughout the year where the bulls are galloped with through the town, while young men jostle for the privilege of hanging onto a bull's horns! It sounds highly dangerous, but in fact the street work with the bulls and horses is much safer than the 'tauromarchie', or bull-fighting in the arenas where the young men have to remove a string tied around the bull's horns, and where a fresh bull is brought in every 15 minutes.
The best bulls live to be up to 40 years old, and some are so famous they even have their own statues.
At one point, as we stop and gaze at a herd of cows with their calves, their horns just beginning to take on the beautiful lyre-shaped points they grow as adults, Patrick looks pensive. "I think," he says, "in the Camargue we love our bulls even more than our horses."
Watching him sit Crom as he dances his way around the marshes, and how he gently reassures him, I think – or hope – he's probably teasing me.
The family herds in the Camargue are so important that when we ride into the middle of the massive marshy area where the mares and foals are eating, all Patrick has to do is click his tongue and call and they all make their way towards us, gently saying 'hello' to our horses and generally showing the calm temperament that their breed is known for right from the start.
Some researchers believe that the Camargue horses go back as far as the small Paleolithic Solutré horse which was hunted for meat. The horses were appreciated as riding mounts by the Celtic and Roman invaders, and blood lines of the Iberian horse have been found in their DNA. In fact, the original Spanish 'Jaca' horse was probably a cross between the Celtic pony and the Camargue. It was later improved by crosses with other horses brought in by the Moors, and because of its cross to the Jaca its DNA found its way into the Americas where breeds such as the Chilean and the Criollo show some of the characteristics common to the Camargue horses.
So what are the characteristics? My little Tato was a brilliant example of a pure Camargue horse – their average heights being from 13.3hh to 15.2hh maximum. He was broad and stocky with a short neck, deep chest, obviously strong legs, and a beautifully full wavy mane and tail that I had plenty of time to gaze at. His ears were small and forward – and as Patrick said, "he loves his work". His trot was even and flat, and his canter too. With the modern version of a working Camargue saddle on he was so comfortable I could ride all day, and his back end was as well-muscled and round as any Quarter Horse.
Over thousands of years, their hooves have adjusted to the marshy ground, becoming hard and tough with very flat wide soles. Put one of our thoroughbreds in there and I swear they'd have an abscess and thrush in a week or two!
The two hours seemed honestly to pass in ten minutes – we passed swans, and water-birds of all kinds, an otter in the river, and began to make our way peacefully home.
There's only one problem with ticking something off your bucket list, I thought as I reluctantly dismounted – it means it's unlikely to happen again – but it's an experience I'll certainly never forget. I hope little Tato enjoyed it too, and that he too, when he reaches retirement age will live out his days in his marshy wetland home.
We'd chosen to say in at the Mas du Notaire winery in Gallician, in the heart of the Camargue. The beautiful old farmhouse has several forms of 'gites' – accommodation – attached, including access to a kitchen and refectory. We were there on the exact weekend that they were reliving the glory days of summer, and bulls and horses seemed to be everywhere in the town – in fact everywhere we went in the Camargue the white horses seemed determined to find me – we saw them out in the marshes, making their way across roads and rivers, and in every town we drove through.
The towns too, are famous for their beauty – Arles, of course, where Van Gogh lived for a year, and was at his most productive, and a special mention for the amazing cathedral in Saintes Maries de la Mer, dedicated to Saint Sarah, the patron saint of the gypsies. Another non-horsey high-point was definitely the ornithological park only a few kilometres out of Saintes Maries de la Mer, with its flocks of pink flamingos.
The Camargue is truly a magical place – if it isn't on your travel bucket list, I suggest you add it, you won't regret it!
---
For trail riding contact: La Cabane du DALADEL
Patrick Fargier
D 58 – 30600 MONTCALM (between Aigues-Mortes and les Saintes Maries de la Mer)
Tel / Fax 04 66 73 52 08 – 06 20 78 03 74
www.chevaux-listel.camargue.fr
Comments
comments