The incomparable jazz singer Barb Jungr is bringing her latest tour, Hard Rain, based on the songs of Bob Dylan and Leonard Cohen to Byron Bay, writes Candida Baker. Leave a comment below or on our FB page to win a double pass to Jungr's latest show.
One of the inescapable facts of life as we get older is that people around us die. If we're lucky those deaths are few enough and far apart enough for us to process our grief, absorb our loss and carry on. If we're unlucky – well, it's a different story.
Listening to Barb Jungr's latest album, Hard Rain, named after the Bob Dylan song, there's no question that one of the mesmerizing qualities this extraordinary singer brings to her interpretation of both Leonard Cohen and Dylan songs on the CD, is a poignancy that speaks of more than a passing acquaintance with life's ups and downs.
When I talk to Jungr on a Skype call from a Starbucks café in New York, where she's currently performing, she's open about the tornado of loss that whipped across her personal landscape some years ago. "In quick succession I lost my ex-husband, my mother-in-law, my father, my best friend, my long-time collaborator and two of my sisters – all in the space of a few years," she says. "One of my sisters died of MS, the other one died suddenly of a heart attack. It was a terrible period for me, a kind of Job like experience of losing almost everything. For a long time I kept waiting for the next person to die."
Jungr believes that two things kept her going – her creative process and her European heritage. "I suppose what I mean by that is that I come from a long line of displaced people. My father was in war camps in Czechoslovakia and Germany, and I was born into a family traumatized by World War II," she says. "We all know now that trauma goes through generations, and I think that coping with loss is something wired into people with my kind of background. But then, the fact is that very few people go through life without experiencing some form of catastrophe, and one of the advantages you have as a creative person is to use your experiences as a form of alchemy. To turn the base metal into gold – that's really the job of an artist."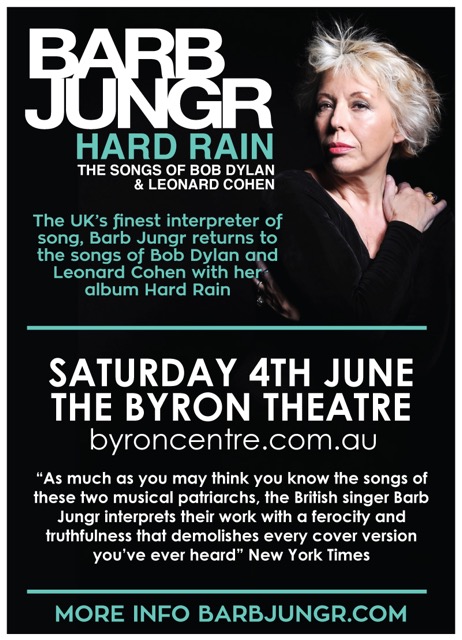 In fact, says Jungr, something she is passionate about is the power of music to heal. "At the moment I am devastated by the cuts being made to the arts – in the U.K, the U.S and, as I understand it, in Australia. I wish governments would understand how healing the arts are – they have a very short-sighted view of the ongoing worth of the arts," she says.
Jungr herself was born in Stockport in the U.K – not a town usually associated with the arts. "No," she agrees ruefully. "People think of Stockport and they tend to think of the Moors Murderer, mass poisonings and plane crashes." Another unlikely Stockportian was the writer Christopher Isherwood who wasn't impressed with his hometown. "The sense of weather is overwhelming," he wrote. "Every view drips with melancholy."
But for Jungr Stockport was a "kind" place to grow up. "I always felt at home there," she says. "I still do when I go back. I've recently been working on a long-term musical project with the town of Corby and it constantly reinforces my sense of belonging at some level to this northern tribe."
Jungr's first fully-fledged musical venture was with a band with the eminently forgettable name of the Three Courgettes, which she formed with guitarist Michael Parker and singer Jerry Kreeger.   They become well-known on the alternative cabaret circuit, and Jungr also worked with the comedian Julian Clary whom she met when they studied at the University of London together. When the Three Courgettes almost inevitably went their separate ways, Jungr and Parker continued working together for many years, and in many ways it was their collaboration which cemented Jungr's increasing reputation as a chansonnière – literally a singer of 'chansons', lyric-driven songs of the French style.
Curiously, despite her fascination with the work of songwriters like Dylan and Cohen, Jungr says that she doesn't really examine how she creates her interpretation of their music. "The word interpretation is something other people say," she says. "I'm grateful, but it credits with a process I'm not doing. I'm not really one for talking about what something means – for me the process is largely intuitive and completely unexamined."
She's the first to admit that this is somewhat odd given what she describes as: "Cohen's almost anal grooming of his lyrics. But I think what I love about performing both of them together is that they are so different – Cohen is an examiner, Dylan is a stream of consciousness writer with, in my mind, a complete incapacity to examine his lyrics, and when you set them against each other it gives them a creative tension which makes for a fascinating juxtaposition."
Over the past fifteen years or so Jungr has put out eleven albums, including Hard Rain which won her the Broadway World Award for best cabaret CD of 2014. Other albums include the fabulously titled Stockport to Memphis, and her latest album, Shelter from the Storm. Jungr is also a talented songwriter – discovering Till my Broken Heart Begins to Mend which features on Stockport to Memphis, was a rare treat. She also writes for children's theatre, and along with the song-cycle she's writing for Corby, she sees everything she as coming from the same source of creativity. "People tend to want to define you as an artist," she says, "but I'm not really interested in the divisions. I'm interested in the whole – I love looking at the leaf, but I like to be part of the forest."
One of the most interesting aspects of Jungr's interpretation of Dylan and Cohen's songs, is to hear them without guitar, but with the constant presence of a piano. It creates a live performance, cabaret ambience to the songs, and for this tour Jungr is joined on stage by John Thorn on the grand piano.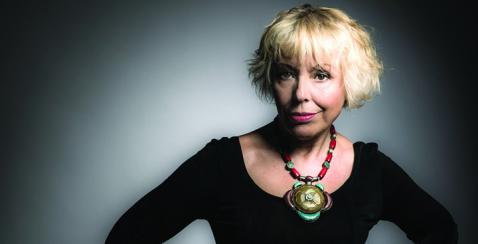 Looking at her gruelling performing schedule over the past few years I wonder if Jungr ever tires of the travel. "I'm not a great homer," she says. "I think moving is in my blood and I've been doing it for so long it's second nature to me. I have a little place in Pimlico in London and I love it, but I never really allow myself to get too attached. I enjoy being as free as a bird to be honest."
 This bird will be landing in Byron Bay for all of 24 hours on Saturday June 4. Be quick to catch her before she flies away.
Leave a comment in our FB boxes below or on our Verandah Magazine FB page to be in the running to win a double pass to Barb Jungr at the Byron Theatre on Saturday June 4.
---
Friday 3rd June – Queensland Cabaret Festival, Visy Theatre, The Powerhouse – Brisbane
queenslandcabaretfestival.com.au
Saturday 4th June – The Byron Theatre – Byron Bay
byroncentre.com.au
Tuesday 7th June – Vivid Festival, The Basement – Sydney
vividsydney.com/event/music/barb-jungr-uk-hard-rain-songs-bob-dylan-and-leonard-cohen
Wednesday 8th June – Street Theatre – Canberra
thestreet.org.au
Thursday 9th  –  Monday 13th June Adelaide Cabaret Festival, Adelaide
adelaidecabaretfestival.com.au
Thursday 16th & Friday 17th -The Bird's Basement, Melbourne
birdsbasement.com
---
For full tour details visit  www.barbjungr.com barbjungr.com
Comments
comments