If you're not doing today, Sunday May 22nd, get yourself down to the Byron at Byron for an afternoon of jazz with the fabulous local band, the WellSwung Daddies.
WellSwung Daddies  play a mixture of arrangements from the Swing Band Big Band era with 11 members including a five-piece horn section, male and female vocals, double bass, guitar, piano, and drums.  They're a big band in the style of Big Bad Voodoo Daddy, Royal Crown Revue, The Brian Setzer Orchestra,  Louis Jordan, Buddy Rich, Count Basie, Frank Sinatra and Ray Charles.  The bring their unique style to their original  songs and big band classics made famous by the Great Gatsby era and the prohibition years. The arrangements are transcribed and arranged from original recordings and selected for their modern interpretation of Swing, Jive, Rock n Roll, Lindy Hop and Jazz.
The Daddies have appeared at the Manly Jazz Festival 2014, Warwick Jumpers and Jazz Festival, Cooly Rocks On Festival and The Gangster Ball at the Tivoli in Brisbane.
The band is based in the Byron Shire and features, Belle Hendrik and Mick Buckley on Vocals, Derek Siddon and Mal Bateman  on trumpets, Steve Sax on Baritone, Andy Hills on Sax and Clarinet, Joshua Booyens on trombone, Steve McLeod on guitar, Mark Bromley on  double bass,  Wally Kafoa on drums, Phil Shepherd on piano, plus sound engineer & PA system by Luis Crista all working together to recreate their big band sound.
The band will be appearing with special guests, the Emmanuel Anglican College Secondary Concert Band.
The Byron at Byron says there will be dancing, so girls get out those rope petticoats. Or just enjoy the sunshine kick back and listen to the band play your favourite tunes.
A cash bar and a special snack menu will be available during the show.
Sunday May 22nd, Byron at Byron resort, 2:30 – 5:30pm, no cover charge.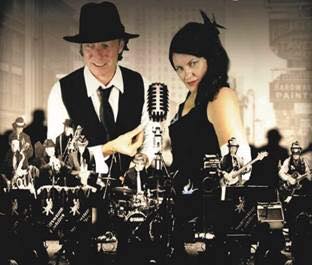 Comments
comments