When Byron shire resident Jeff Sampson headed off on a summer adventure to walk the Camino del Norte he found that life actually could be all beer and skittles, or in Spain, all sun and sangiovese…
It was early summer and the cobblestones were cool in Florence and Bologna, great for a few cheeky reds and gnocchi in never-to-be-found-again backstreets. Elba turned on a  citrus sun with cypress pines serrated along the ridgelines; half-fastened zips in the blue lining of the sky. The beach was all honey-baked-ham tans and a great advertisement for the homogeneity of Italian life where I got the impression that everybody was simply thinking about what's for dinner. And, delightfully, it was the same in northern Spain where I headed next to start a mere 1000km stroll from Irun to Santiago on the Camino del Norte.
Irun is in France and the border between it and Spain runs down the middle of a less-than-lovely little river spanned by a bridge in no way resembling anything out of Madison County. Mid-bridge you step over the border, but there is no dotted line that lends itself to photos. Mike Hardy, my traveling companion, and I walked along with the Atlantic on our right and a mountain range on our left which was a nice way to pass a couple of hours before we came to our first town – San Sebastian, which apparently has more Michelin stars than any other place on the planet. It should get some sort of National Geographic star for its location on the Bay of Biscay, which was full of people full of tapas taking the sun in a very civilised way. Mike and I gave the tapas a good workout and did the locals a favour by taking on the local glut of sangiovese while we sat and watched an Irish wedding on the steps of an old, old church; afterwards we strolled the laneways which Hemingway used to habituate when he wasn't blasting endangered wildlife in Africa. (On the wedding, I just have to say that there is nothing that semaphores self-consciousness more than a linen suit on foreigner abroad.)
From then on it was a charming blur of little farms rampant with figs, kiwifruit, peaches and tomatoes; the Atlantic on its best, bluest behaviour; and little bars for lunch. And this was all in the occasional company of a United Nations of fellow walkers. A lovely twenty-something speech therapist from Heidelberg – who said she felt safer walking with Mike and I –  kept us amused with her translations. We were talking about someone in disguise and she asked "What were they doing in de skies?". Mike said something would make a lovely photo. Hanna thought he was talking about a "lively Friday". I remarked to her "Nice little town" which she heard as "Do you want to settle down?".
A few hills, villages and cafe con leches later, Bilbao appeared. I don´t think there could be any comeback if you recommended this place to even the hardest marker. Old squares and people endlessly eating and drinking red wine at what would be scandalous hours in some Lutheran setting is beyond picturesque. The Guggenheim art museum by Frank Gehry makes the Sydney Opera House look like a snap-together kit, albeit a beautiful one. The only thing that detracted from it was the giant brass spider at the front. It looked like the work of a cryptobiologist with a welder and too much time on his hands. The boulevards were wide, the lifestyle obviously expansive, and the people seemingly friendly, if not forthcoming.
Another 42km go under the boots and we stroll into the seaside town of Santander, which had a certain elegant savoir faire. The first beer preached to the converted and talk among the walkers turned to blisters….they have them in places they didn´t previously have places. I considered myself lucky because I had no  peripheral neuropathy or soft tissue trauma to report but to maintain solidarity, I made something up.  We hit the first restaurant we saw and Mike and I both order what we think will be a huge plate of pasta which sadly for us translated to Muscles Marinara. What we got was marinated muscles. The only thing for it was to have the waiter ferry back and forward baskets of yesterday´s baguettes to sop up the sauce. As food faux pas go, it didn't rate against going with the set menu in a little town further back and getting a big plate of cuttlefish cooked in their own ink. Actually it tasted great but I don´t think a plumber could have happily sat down to it.
After a few days I got  down pat the phrases to get coffee, wine, beer and food, and then tell them it was all muoy bien; although in the Basque region that was about as much use as a butt piercing because they speak Euskotren.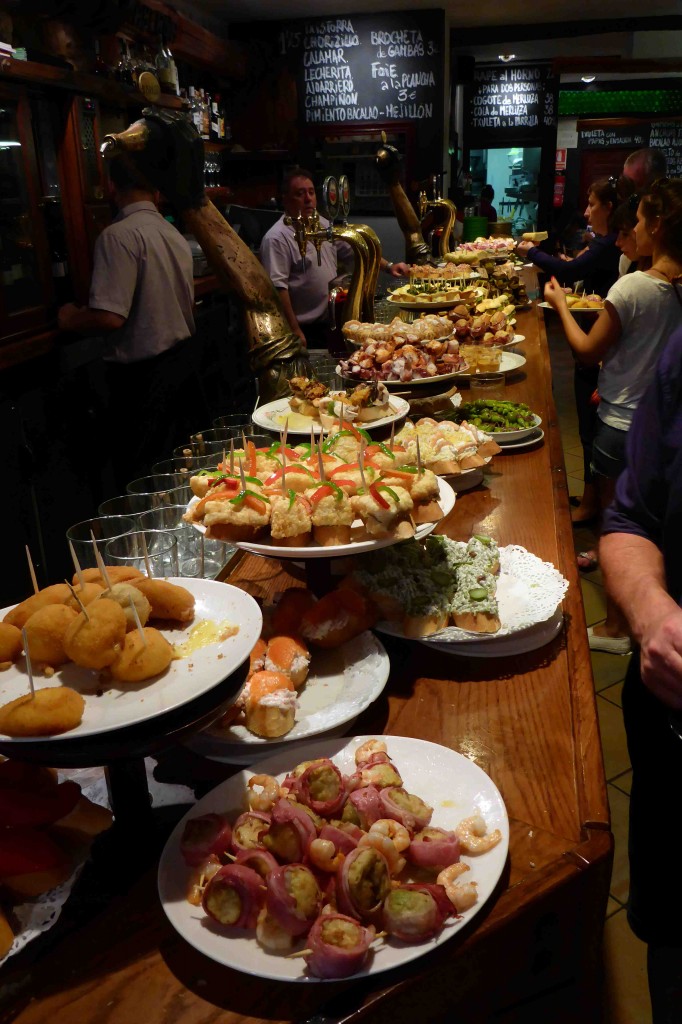 One night Mike and I found ourselves in a little bar  having dinner and watching with about 50 locals the finals of the 'Rip the head off a dead goose' contest. It went like this. A boatload of people row up to a dead goose tethered to a very strong rope which has a powerful winch at each end. Someone jumps from the boat and grabs the goose. They have a few quiet moments with the goose before the winches rip them both out of the water to a height of about 7m. The object is to rip the goose´s head off before the tensioning of the rope rips something of your own off.
Our merry band continued to grow and we seemed to have a reputation as fun-lovers. Larry the Canadian even took a train backwards so he could spend the day with us in Santander.  Patrick the French social worker from Bordeaux left us before the end of the trip. We said goodbye to him in the shade of a massive stone arch, the forecourt of a bar, after we bought him a few too many vino tintos. He wanted to tell us about his childhood in Saigon and his Bordeaux caseload.   We did listen empathically, right up until he got out his pack of Lucky Strikes – there's no stigma to lighting up in Europe. They must shove a cigar rather than a dummy in babies' mouths over here.
Speaking of smoke, on another olfactory matter, when they store the herbage they harvest from their meadows over here it smells for all the world like Christmas pudding, or a really good fruitcake.  I remarked on this one day to a young German bloke I was walking beside and he said: "To me it just smells like shit, but then again I only ever usually breathe airconditioned air." There you go. One man's Christmas pudding is another man's ….
As we crossed from Basque country to Cantabria there was no more cuttlefish cooked in its own ink on the menu, so I ordered the grilled turbot instead, expecting at 10 euros some discreet, possibly rectilinear, fillet to come out. But I got the whole fish. It was a big plate, and both head and tail hung over the edges. (Food often comes  in Spain with its head still on by the way.)
You tend to get a week's worth of life in one day here. It´s probably why punters have the odd garden-variety epiphany. They walk for a week and it´s the equivalent of seven weeks in their own company.  No personal miracles for us  yet, but 30km into a 40km walk I did have a vision of a nice glass of dry white and a plate of the calamares fritos I had back in Bilbao.
One morning we were about to leave a perfectly preserved Spanish village – all sun-sucked pink pipe clay rooves and stone-stacked walls – when we came across a cat with its head stuck in a tin of petit pois. Thinking the lid might still be inside and could take all nine lives if we gave the tin a tug, we opted to call a vet. Lucky we had a Spanish speaker in our number for that task. We waited but the vet didn't arrive so a few of us decided to perform the delicate operation before Moggy suffocated. No lid, thankfully. First one ear popped out, and then the other…and then out came the head and the most dilated pupils I´ve ever seen. It bounded off without giving anyone rabies, and we began our walk for the day feeling virtuous.
In Gijon we started our progressive dinner in a local bar on the seafront. Cider was the drink there – and you aerate it before you drink it by pouring it from arm's length. After we'd finished, the pub was considering closing the cobbled street because of the risk of some old dear slipping and then sliding into the sea, disappearing beneath the waves with a last exhalation that life had been mouy bien.
Comments
comments