It's a wonderful feeling when luxury foods such as blueberries are in season, writes Belinda Jeffery – the problem is getting them all home in time to make her favourite cake.
Hooray! It's blueberry time. These past few weeks at the farmers market, I've seen many happy shoppers clutching the familiar white buckets from our local blueberry grower. I love that we can buy them by the bucket – there is something just so luxurious about being able to plunge your hand into a bucketful of berries, pull out a fistful, and eat them!
A lot of this goes on during our drive home, but fortunately, there are always enough berries left for at least one gently spicy blueberry crumble cake – my life wouldn't be worth living if there wasn't! It's a simple recipe, but ever-so good, and wonderfully versatile – it works brilliantly well as a pudding (especially with a scoop of ice cream), a cake or a slice.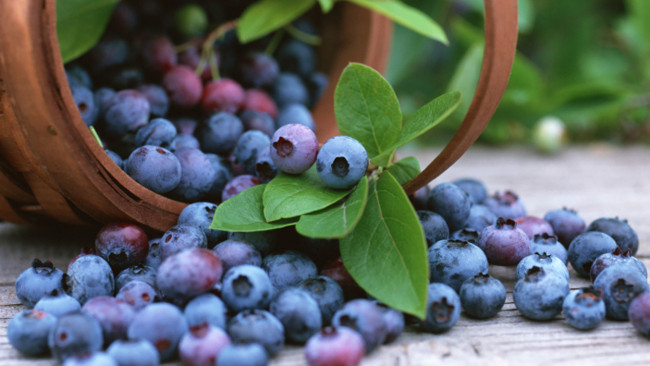 SPICY BLUEBERRY CRUMBLE 'CAKE'
Serves 6-8
240g plain flour
½ cup (120g) caster sugar
1 teaspoon baking powder
¼ teaspoon bicarbonate of soda
¼ teaspoon salt
1 teaspoon ground cinnamon
½ teaspoon ground nutmeg
100g cold unsalted butter, cut into small chunks
1 tablespoon caster sugar, extra
20g cold unsalted butter, extra, cut into tiny cubes,
1 extra-large egg (70g)
½ cup (125ml) sour cream
1 teaspoon vanilla extract
250g blueberries (fresh or frozen)
Icing sugar, for dusting
Softly whipped cream, or good vanilla bean ice cream, to serve
Preheat your oven to 175C. Butter a 20cm square cake tin, line the base with buttered baking paper, then dust the tin with flour. Set the tin aside.
Tip the flour, caster sugar, baking powder, bicarbonate of soda, salt, cinnamon and nutmeg into the bowl of a food processor fitted with a steel blade. Whiz them together for 15 seconds until they're thoroughly combined. Now add the butter, and pulse it in until the mixture resembles fine-ish breadcrumbs.
Scoop 1½ cups of the crumb mixture into a bowl (this is for the crumble topping). Stir the extra tablespoon of caster sugar into this, then scatter the extra 20g of cold butter over the top and use your fingers to lightly rub it into the flour mixture. What you're after is a mixture of big and little crumbs. When it's done, cover the crumble and pop it in the fridge.
In a separate medium-sized bowl, beat the egg lightly, then add the sour cream and vanilla and whisk until they're well combined. Tip the flour mixture left in the processor into the egg mixture, and stir them together. Now, gently but thoroughly mix in the blueberries – the batter will be quite stiff (if you're using frozen berries, just mix them in in their frozen state). Spoon the batter into the prepared tin, then carefully spread it out as best you can, trying not to squash the berries. (It's a bit awkward to do this as the batter is thick, but it does spread, promise!) Sprinkle the crumble mixture evenly over the top, then shake the tin gently to settle it.
Pop the tin in the oven and bake the cake for 55-60 minutes, or until the top is pale golden and a fine skewer inserted in the middle comes out clean. It puffs up a bit, but sinks as it cools.
When the cake is ready, transfer it to a wire rack and leave it to cool in the tin. After 20 minutes carefully run a fine palette knife, or blunt knife, around the sides of the tin to loosen the cake. Lay a sheet of baking paper over the tin (this helps stop damaging the top when you flip the cake over) then sit a flat plate on top of this. Carefully invert the cake, then gently remove the tin and lining paper. Now sit a serving plate on the cake and invert it again so the cake is crumble-side up. (The first time I did this I flipped it a little too enthusiastically and ended up with crumble mixture all over the kitchen, so I've learned to be a bit more circumspect now!).
Although you could eat the cake straight away, I think the flavour is best when it's barely warm or at room temperature. When you're ready to serve it, dust the top lightly with icing sugar and serve it with softly whipped cream or vanilla bean ice cream.
P.S. This is probably best eaten on the day it's made, however on the odd occasion I've had leftover cake, I've stored it in the fridge and brought it back to room temperature or warmed it gently to eat the following day, and it was still very good, if a bit firmer. It actually freezes well for a few weeks too.
---
Check out more of Belinda Jeffery's recipes and her books on: belindajeffery
Comments
comments