Business and creative trailblazers headline at Byron event this weekend…

An annual event designed to help encourage both men and women to start their own businesses, be inspired in their own established businesses, or follow a creative or career calling, is back in the Byron Shire.
Pursue Your Passion Byron Bay features TV personality Shelley Craft, as well as former Surfing Life and Tracks magazine editor and best-selling surf author Tim Baker, photographer and co-owner of Pampa Victoria Aguirre, and artist and entrepreneur Diana Miller.
Event organisers, co-founders of The Holistic Project (THP), Kristal Brown and Helena Duncan, said in the event's third year, the diversity of this year's speakers supported its inclusive nature, open to all people at differing stages of their creative or entrepreneurial journeys.
"This is our first Pursue Your Passion event for both men and women, and it exists for those who are ready to break into their own businesses or new careers, or be motivated to step up the way they are currently doing business," said Brown. "Led by our incredible MC Shelley Craft, attendees will hear from three inspiring speakers, each well-respected in their fields, as well as enjoy a live musical performance and awesome goodness bags, all in air-conditioned, seated comfort. It's also a great forum for these likeminded people to connect and encourage each other to be confident in their abilities, create the balance they need in order for a start-up to work, and explore opportunities for collaboration."
Duncan said the traditionally sold-out event would feature some big take-home tips and a Q&A session with its key speakers, as well as involvement from some highly influential health and lifestyle brands.
"We are very fortunate to be hearing from some of Australia's biggest success stories across three creative disciplines – all sharing stories from their unique experiences in business and career, as well as bringing their wonderful grounded natures to each of their talks," she said.
"Topics covered will include take-home tips on how to create a sustainable lifestyle from following your passions, how to create with purpose, and how to balance the busy demands of a creative career.
"The positive and uplifting nature of the event has attracted several lifestyle sponsors, as well as a proud partnership with mental illness and suicide awareness charity LIVIN."
Pursue Your Passion Byron Bay is on Saturday, 18 February from 2.30-5.30pm at The Byron Theatre, Jonson Street, Byron Bay, and is proudly sponsored by The Event Shed.
Tickets are $99 and are strictly limited. For tickets and more information visit www.theholisticproject.com.au or contact the Byron Theatre box office direct on (02) 66 856 807.
Caption: Founders of The Holistic Project Helena Duncan and Kristal Brown are bringing inspirational event Pursue Your Passion to Byron Theatre on February 18, featuring some of Australia's most inspirational creatives.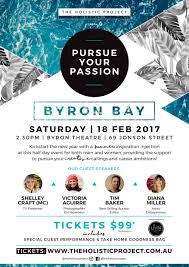 Comments
comments