For the first time ever Jerry Sargeant is bringing his amazing Star Magic workshops to Australia for one amazing weekend at Nerang, on Queensland's Gold Coast on September 24-25.
There was a time, not that long ago when Jerry Sargeant thought that spiritual healing was, in his words: "A lot of nonsense. I honestly would have classified myself as a complete non-believer, but then about 12 years ago after moving house, my wife and I had a very strange experience. My wife, Laura, told me that every time she closed her eyes she saw dark images in the house, and heard dark voices which were making her very scared. Laura called a friend who was a priest, and she came around and doused the house, and did some rituals. The next day I told a friend the story and he recommended I speak to a lady whom he said he could help."
Without knowing anything about the woman he'd been told to call, Jerry told her the story. "She asked for our address and then if we'd been knocking any walls down, and I said 'no, we rent the property, but it's obvious the previous owners have built an extension.' She told me straight up that there was an angry old man in the house. It sounded crazy to me but I said 'What are we going to do about it?' She said, 'I'll get rid of for you.' I said, 'When are you coming down to London?' She told me, 'I don't need to do that I can do it from here.' At that point I thought this was madness, I was literally thinking what the hell is going on here. I said good-bye, went home and told my wife that I'd spoken to this woman and she reckoned that there was an angry old man in the house and Laura turned around and told me, 'I know, I've seen him.' I couldn't believe it. Two people who have never met each other were telling me the very same thing'
But the universe, which certainly moves in mysterious ways, wasn't finished
with Jerry yet. Delving a bit into his past for the story I ask him about his journey towards creating Star Magic and spiritual enlightenment. I ask him if he was always spiritually inclined. "No," he says, "I was a criminal. My life included a decade spent involved in smuggling drugs and guns."
Right. Not quite the answer I was expecting, but as it turns out his early childhood was almost a template for trouble. "I was adopted, and fostered," he says. "To me it seemed as if I was constantly being rejected, and I felt alone most of the time. I never imagined being a criminal in the first place, but once I'd started, I couldn't imagine not being one, it felt as if that world was my family. I was so lucky, even though I got arrested on numerous occasions and attacked many times I stayed out of prison and the graveyard. In many ways looking back on it I feel as if I was being protected so I would finally get the message!"
He gives an example of his feeling of being looked after. "We'd just dropped some cocaine off to a house one evening, and we were driving out of this cul-de-sac in a jeep when this car arrived, smashed into us and blocked our way, and out of it came three of the biggest guys you've ever seen with bars, chains and bats, smashing at the windows – but the windows didn't break. At the time it even seemed to me as if the windows had turned to rubber or something, they seemed to absorb all the blows. I was looking at it, thinking what is going on, every second I thought it was going to break but it didn't. In the end people came out from their houses, and these guys drove off. But then, only two days later, I popped into a shop for a couple of minutes, left my phone on the passenger car seat, and when I got back, someone had broken the window and taken the phone. I was dumbfounded. How on earth could three massive well-prepared thugs not break the windows, and then one person in broad daylight break a window easily and take a phone? It didn't make sense, but looking back I really feel as if I was being protected to get the message about the healing power of Star Magic, and to see the evidence with my own eyes."
It was during his darker days that Jerry was lucky enough to meet his wife, Laura, when he was working for a high profile criminal organisation. Meeting Romanian-born Laura was a bit of turning point for Jerry, who began to think about how he could escape the criminal world and get on the straight and narrow. He used his criminal talents to smuggle Laura and their then-baby daughter Aalayah into the UK. "After we got married, Josh who is eleven now, was born, and I just really concentrated on creating a great life for us all through a property business, I'd just set up," he says.
Little did he know that there was another major turning point in his life coming up. "We were all on holiday in Romania some years ago when the taxi we were in ran over three ladies who were crossing the road," he tells me. "I was asleep in the passenger seat – Laura and the children were in the back, there were no seatbelts – and it was in the early hours in the morning. All of a sudden I woke up to a loud bang, there was wind and glass everywhere, the car was swaying from side to side. I remember thinking we'd been in a really bad accident and we were going to hit the oncoming traffic or flip over then we came to a grinding halt. My daughter climbed out from under the driver's seat, and Josh's mouth was full of glass. I glanced at the taxi driver and he looked petrified. There was a huge hole in the windscreen, and my head was beginning to hurt. I opened the door and got out, saw two ladies 30 meters up the road and what looked like a dead body much further away.
The first lady was hit, she came through the windscreen, hit me in the head and then got sucked back out of the car and landed 150m up the road. The second lady had her ankles cut clean off and the third lady, physically was unharmed. I walked past the first two ladies as a nearby factory worker was on the scene. I was fixated on this other body. As I got closer I saw her energy hovering above the body, her soul, and then disappear into the ether, and literally in that second I realised that all of us are energy. The soul left. It was like someone taking an old car to the scrap heap. No love lost. The soul went on its merry way. I didn't feel sad or upset. I somehow felt privileged to have witnessed what I'd just seen. I then walked back towards the taxi, and normal life took over again."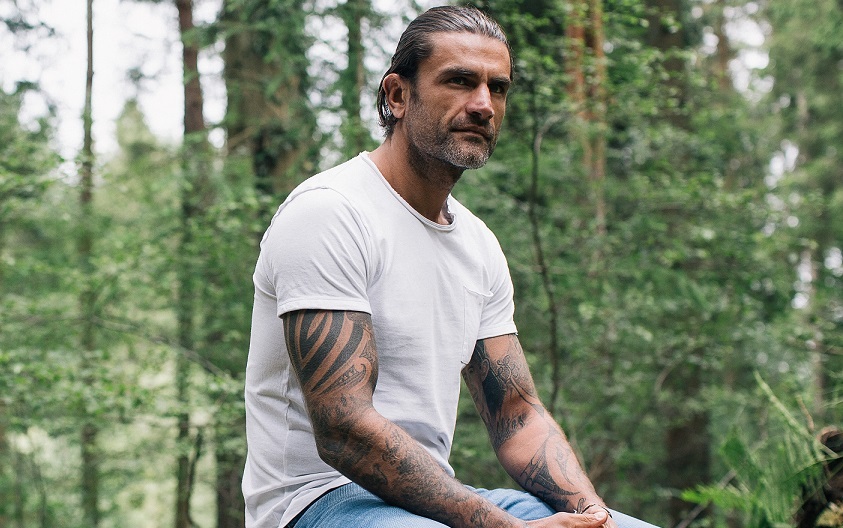 Jerry had been fundamentally changed by the accident. A few months later when Laura had a headache he was sure he could help her. "I knew that I could pull her headache out," he says. "I put my hand on her head, saw the headache, it was green. I grabbed it and pulled it out.'
It was the experience with their house in London that first motivated Jerry's interest in the spiritual side of life. "It was the beginning of my spiritual journey because I was so impressed with the fact that two different people 120 miles apart, said exactly the same thing, and that's when my curiosity was piqued. I began to visit the woman who got rid of the old man for us, and she took me into past lives, she showed me how to remote view, how to clear stuck souls and take them back to light and so much more – it was the beginning of a massive education. A real education."
The London period marked the transitional phase for Jerry between his old life, and his new life. I realised that one of the things I wanted to do to give some money to charity. I asked my teacher if I gave her money would she be able to send it where it was needed," he says. "It wasn't long before I was hearing through her that the money was building roads, and wells, and helping people in Africa who were desperately poor. And it felt great to be giving – I felt like Robin Hood, it was brilliant!"
It was around this time that the car crash in Romania happened while the family were on holiday. On their return to the UK an opportunity presented itself to move to New Zealand, and build property there. Unfortunately, after a considerable amount of investment and hard work, the project fell over. "I was left in this situation where I had to find something to do," says Jerry, "so I thought, well, one thing I understand is fitness, so I'm going to do that." He started with personal training, but within a short space of time he had expanded to setting up his own gym.
It was while they were in New Zealand that Jerry had another healing experience. "My teacher back in the UK had been in an accident," he says, "she was hospitalised and she was told she might never walk again, and that she would be in hospital for a year or so. Her partner phoned me and asked if I could help. How can I help I thought? I'm in NZ and she's in the UK, but my intuition said lie on the bed with some crystals. I suddenly found myself in her hospital room, with light pouring from my hands. Mentally I put her body back together. I lay on my bed and did this many times over the period of a few weeks. She actually walked out of hospital with the use of a zimmer frame in 12 weeks. I doubted that what I was doing had had any effect but when she phoned me and told me that she woke up and said saw me and said Jerry, what are you doing here? I couldn't believe it. She saw me in her hospital room when I was the other side of the world. That's when I started to think about this stuff seriously."
In New Zealand a friend had a copper pyramid in his garden which Jerry used to meditate in. "In one meditation, I was picked up in a space pod, best way I can describe it, and taken to another planet within the Alpha Centauri star system, and wherever I went he began to see 'beings', fairies, and angels." As the lessons came thick and fast, Jerry realised that even though their business in New Zealand was successful it was time to go back to England. Once back in England things heated up again. "At one point the Angel Gabriel suggested to me that I write a book called 'Into the Light', and as soon as the suggestion was there I knew it was the right thing to do," Jerry says. "I sprinted home, opened my computer, started writing, and this book poured out of me, as if it was channelled. I started seeing geometry and codes everywhere, I meditated more, and my meditations took me – and take me – on some extraordinary journeys into parallel worlds. My son and I went to ancient Egypt, every day for nine months, learning how to heal. We sat in classrooms and were shown ancient scrolls."
Curious as to how to manifest this new healing power out into the universe Jerry decided to go to a spiritual fair and offer free healings. "It was amazing," he says, "everybody loved it, and it just began to take off. I worked with a few people where we were able to get medical evidence of before and after, I set up a website, and Star Magic just grew and grew from there."
In amongst all of this, Jerry decided it was time to search out his birth mother, and when he found her he discovered that his grandfather had been an Irish gypsy. "It suddenly made a lot of sense to me about who I am," he says. "I've always been dark skinned, and when I was a kid people teased me about it, but there is that Spanish vein that runs through the Irish from the Armada, and the gypsies of course have always had the gift of second sight. If you go back further, the Egyptians moved through Spain into Europe, and Ireland is also part of the original Atlantis, so it all ties in."
In many ways Jerry credits his wife for his turnaround towards a spiritual life. "When we were first living in Cheltenham my wife gave me a book about an Irish healer – Joe Cassidy, the diviner. I was blown away by it – here was this normal Irish guy who had built a business around his psychic abilities. I thought if he can do it, I can. But Laura has been instrumental in the whole journey – she stopped me drinking and taking drugs, she's inspired me the whole way."
It occurs to me that Romania, with its rich heritage of gypsies, and Ireland with its acceptance of the 'fey', are in many ways similar. It seems as if there must have been a sense of destiny for the couple. "Absolutely," Jerry says. "I've come to know parallel realities, which other people would call past lives, and we've had a huge so-called past together."
These days with Star Magic Jerry operates in that wonderful space of not caring what other people think about him. "I think once you find out what you're supposed to be doing on this earth, then everything else drops away. I do seminars and talks most weekends, and I simply speak my truth. Sometimes I think that the levels of darkness I went through are equal to the levels of light I can travel through now – and I'm grateful for that. You need to become a master of the duality of light and darkness, and find complete and utter equilibrium, and that is when you harness the most powerful energy in – or out – of this universe."
At home Jerry mediates inside a pyramid, and he exercises every day. His interest in health has meant that as he turned the corner away from his dark days, he's learned about the power of giving. "Gradually I started to do things for charities, and this is something that is very important to me – if we can build roads, or wells, or implement permaculture projects in places where these things will make a real difference then that is an amazing thing to be able to do."
As a healer one of the main tenets Jerry embraces is that everybody is the same. 'I don't care if someone is a judge, a lawyer, a drug addict or a businessman – everybody is the same to me. I see them as playing their role, for me the point is to have zero judgement towards anybody. Everybody is just as powerful as everybody else if they are shown the way to access their true light and that's what I am to be able to do. I help people discover their power. As far as I'm concerned the more freedom Star Magic can create in people the better."
Jerry is bringing Star Magic to the Gold Coast in September and he's looking forward to it. "I can't wait to visit Australia," he says. "I wish I could fully describe what a Star Magic workshop is like – there is so much angelic presence there, so much love. I'm blessed to be able to do this work – and I never forget that."
---
Jerry Sargeant and Star Magic will be at the Gold Coast on September 24-25 at the Nerang Bicentennial Community Centre. Contact www.starmagichealing.com for more information. He will also be giving one-on-one healing sessions.
Jerry Sargeant has numerous meditations and healing on Youtube/JerrySargeantML
Comments
comments