February 26/27 New Moon Eclipse @8 Pisces
Hi Everyone, and Happy New Moon Eclipse!
LA – Feb 26  – 6:58 am
NY – Feb 26  – 9:58 am
LONDON – Feb 26  – 2:58 pm
SYDNEY – Feb 27 – 1:58 am
AUCKLAND – Feb 27 – 3:58 am
For the next few days, the moon is 'dark', the time to rest, relax and recover from the demands of the last few weeks, months, or maybe even years.  Even if you have a full work schedule, you can entertain thoughts of peace and ease, finding ways to lighten your mind, fuel your enthusiasm and appreciate life.
You can also invoke 'slacker manifesting' at this time.
Try Slacker Manifesting on the Dark Moon

Here's a rundown from Abigail Steidley. Read her in full on Jeannette's blog.
I use this approach with everything (albeit not perfectly, mind you! Sometimes I forget and start over-efforting).
Do nothing.
Ignore it.
Listen for ideas.
Take action on the ideas.
It's the recipe for instant manifestation. I have learned not to put one ounce of mental or physical effort into anything until I have done nothing, ignored it, and listened for ideas. Yes, this is the exact opposite of everything we learned in school.
We want to prep on the dark phase, because this is not just any old new moon!
It's a Solar Eclipse, where the moon stands between the Sun and Earth, cutting off the light of the Sun. This solar eclipse pulls in the Lunar Nodes (a necessary ingredient for any eclipse) bringing new possibilities our way, as if by chance.
All you have to do is have eyes open and a readiness to receive.
It's in Pisces, after all!
Things to do on the Pisces New Moon Eclipse:
Love life
Dream big
Cast a spell
Make a wish
Help a friend
Share a meal
Help a stranger
Immerse in the arts
Read your favorite fiction
Spend some time in nature
Be with your animal friends
Receive like you never have before
Have a wonderful, enchanting New Moon Eclipse, everyone!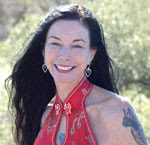 Check out the NEW GoodVibeAstrology.com, and find out more about me and my writing, plus the Daily Astro Flash on Kim Falconer Author – Facebook, new release on AvaSykes.com, archives on 11th House Blog, Kim Falconer.com, mood boards on Pinterest, and more on FaceBook, Youtube and Twitter. I post over at the Supernatural Underground on the 16th of every month and most days on Save the Day Writer's Community on Facebook. Subscribe to the New Moon Newsletter.
Save
Save
Save
Save
Save
Save
Comments
comments