Over the past few decades Belinda Jeffery's name has become synonmous with delicious, easy to prepare food, and now Jeffery has her sixth book out: Utterly Delicious Simple Food.  Candida Baker caught up with her during her whirlwind author tour.
I'm talking to Belinda Jeffery by phone, and the normally calm-amongst-the-chaos Jeffery is sounding, well, just a little bit stressed.
"I've been giving cooking classes for 36 people," she says, "I've been on TV, radio, at book signings, doing workshops…it's busy!"
But the busyness is for good reason – one of Australia's most beloved food writers has a new book out – and for those of us who believe that you should actually be able to cook the recipes in a recipe book, this is a grand thing.
In this instance too, the book itself is a grand thing – a richly textured, large-format hardback filled with Jeffery's signature dishes, inspired by produce and flavours from around the world and with Rodney Weidland's exceptionally beautiful photography.
Jeffery's books, which include Belinda Jeffery's Collected Recipes; Mix & Bake; The Country Cookbook and Desserts have all been co-created with Weidland, and it's the partnership that gives the books – if you'll forgive the pun – that special flavour.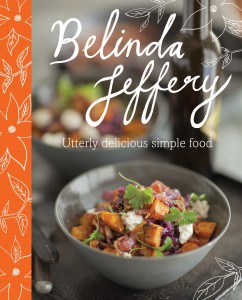 "Each book takes about two years," Jeffery explains, "and one of the things that's unusual about how we work is that everything is cooked and styled by me, and it's all shot at my home in Mullumbimby. We don't have a studio, or a food prep person, or a stylist. Rodney comes up throughout the year, usually for a week at a time, and the whole house turns into a studio. We've worked together for 26 years, since I first started, and he's shot all of my books – we have a wonderful collaboration."
The successful partnership has meant that Jeffery is given an unusual amount of freedom by her publisher at Penguin, Julie Gibbs, the genius behind many of Australia's most iconic food books. "Julie just leaves us alone," says Jeffery. "In fact it was actually Julie that came up with the title. We were talking one day and she said 'all of us in the office were saying that the great thing about you Belinda is that you just give us utterly simple delicious food'. Then she stopped and looked at me, and said 'I think that's your next book'."
It's been 12 years since Jeffery left Sydney for Mullumbimby, and decades since Jeffery first opened her Good Health Café in Mosman, right at the start of the interest in healthier food – and the realisation that it could taste good as well. During that time, Jeffery has become a staunch advocate for seasonal cooking, the farmers' markets and growing your own vegetables and herbs wherever possible.
"The produce is the cooking," she says. "When we moved here I found that I immediately felt closer to the cycle of veggies and fruit trees and fruit. It inspires me to walk around the farmers' market in the morning. At the moment there are beautiful mulberries which I love, and for me it's so important to use what's there and immediate, in season, fresh and hasn't travelled far."
Another aspect of farmers' markets that appeals to Jeffery is the personal touch. "I love dealing with the person that grew the produce, and these days I know all the stall-holders," she says. "I listen to other people asking questions and talking and I've noticed there's a whole new interest in health and organics. A few years ago you hardly saw anybody selling fermented foods – now quite a few do." She laughs. "I love it all so much I sometimes wonder if I was a greengrocer's daughter in a past life!"
Asking a food writer to name their favourite meal of all time is perhaps the hardest question they could answer. I'm thinking to myself of all the amazing places Jeffery would have eaten at over the years, but her answer is immediate, and down to earth.
"Quite recently we went to Spain because my father-in-law lives there," she tells me. "We visited Barcelona and went to the Santa Caterina market – which is not the big main market but a beautiful produce market. In amongst all the throngs and the stalls with the wild mushrooms was this tiny tapas bar. We were asking the chef at the tapas about the mushrooms, and he yelled something to one of the sellers who walked over with the mushrooms, and put them down. Our guy just cooked them so simply. He sautéed them with garlic and olive oil, and lots of manchego cheese, and then added a quickly cooked fried egg. We sat there surrounded by all the market activity with a glass of wine, and ate this delicious food. There was another dish they did with thin, crispy, deep-fried eggplant, with wild honey and goats cheese, asparagus and re-pepper sauce. It was all just the classic rustic food I love. Clive and I were there for a week, celebrating our 40th wedding anniversary, and that food was the best food we had in Spain without a doubt. We went back every day."
She thinks that perhaps the fashion for long, complicated meals for hours at a time in expensive restaurants is passing. "I know for ourselves that we love to go out to the wonderful pop-up restaurants that we have in our area like Forage & Graze and Francisco's table," she says. "I love to eat at our local little Japanese restaurant in Mullumbimby or at the Japanese café in Federal – and another favourite is Sarah Swan and the 100mile Table. Sarah used to work for Neil Perry and is a wonderful chef."
Jeffery's passion for simple food is continuing with her seventh book, which will of course feature all the beautiful local market produce. But in the meantime there's the PR trail to get back onto before she can home again and relax. "Someone asked me if I was getting sick of signing books," she says, "and I said I never get sick of signing books!"
* * * * * * * * *
It would hardly be fair to write a story about a new cookbook from our very own food writer and not include a recipe – and how can you ever go wrong with chocolate cake?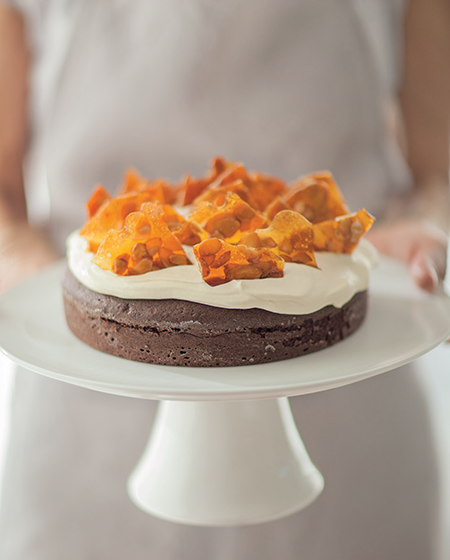 A Really Simple Really Lovely Chocolate Cake
I think that what makes this slim little cake so special to me is the texture/taste balance – the crumb is remarkably fine and light, yet it has a deep chocolate-y flavour without being at all heavy or cloying. It's really versatile too – you can simply dust it lightly with icing sugar and serve it as is, or dress it up with a shiny chocolate ganache (see page 196) or billows of whipped cream and shards of praline, as we have in the photo. And to my mind, like all chocolate cakes, it's only better for being served with berries that have been lightly sugared so their juices flow.
SERVES 8
80 g unsalted butter, roughly chopped
1/3 cup (35 g) dutch-processed cocoa powder
1/3 cup (80 ml) light olive oil
2/3 cup (160 ml) cool water
90 g good-quality dark chocolate, finely chopped
1 cup (220 g) caster sugar
1 1/4 cups (185 g) plain flour
2 teaspoons baking powder
1/4 teaspoon fine salt
1 large egg, lightly whisked
1 teaspoon vanilla extract
1/3 cup (80 ml) buttermilk
300 ml thickened cream, softly whipped
almond praline (see page 197), to decorate
Butter a 23 cm springform cake tin (which is at least 6 cm deep) and line the base with buttered baking paper, then dust the tin lightly with flour and set it aside. (I've also made this in a 20 cm tin so the cake is a bit deeper; it worked quite well, but it domed a bit and had some fairly large splits in it – thank goodness for the whipped cream on top!)
Put the butter, cocoa powder, olive oil, water and chocolate in a medium-sized saucepan over medium heat. Warm the mixture, stirring it regularly (a flat sauce whisk is ideal for this as it gets into the corners of the pan) until the butter and chocolate have melted and the mixture is smooth – just make sure it doesn't come to the boil or it may become grainy. Remove the pan from the heat and stir in the sugar until it's thoroughly combined, then set the pan aside until the mixture is cool.
In the meantime, preheat your oven to 150°C.
Tip the flour, baking powder and salt into a bowl, and whisk them together with a balloon whisk for 1 minute so they're thoroughly combined.
Once the chocolate mixture is cool, thoroughly whisk in the egg and vanilla, then stir in the flour mixture until it's combined – don't overdo this or the cake may be a bit tough. Finally, mix in the buttermilk. It won't look like all that much batter and it will be quite runny.
Pour the batter into the prepared tin, shaking it gently to level the batter out. Pop the tin in the oven, and cook the cake for 45–50 minutes (if you're making the cake in a 20 cm tin, it may take a little longer), or until it springs back when you lightly press the centre with your fingers, and a fine skewer inserted in the middle comes out clean.
Sit the tin on a wire rack and leave the cake to cool for 5 minutes, then gently loosen around the sides and invert the cake onto the rack. Remove the base paper; sit another rack on top, and turn the cake again so it's right-side up, then leave it to cool completely.
To serve the cake, transfer it to a cake stand or platter, and use a large palette knife to swirl the cream over the top, then decorate it with shards of praline.
Utterly Delicious Simple Food by Belinda Jeffery, Lantern Books, rrp $49.99 utterly-delicious-simple-food
Comments
comments