When Richard Jones unloaded his latest arrivals from the kiln in time for Open Day at his Possum Creek studio he couldn't have been more pleased.
"It looks like a sea of bowls," says Jones.  "The celadons did really well on the raku clay, and the shinos did all sorts of weird and wonderful things – as shino does."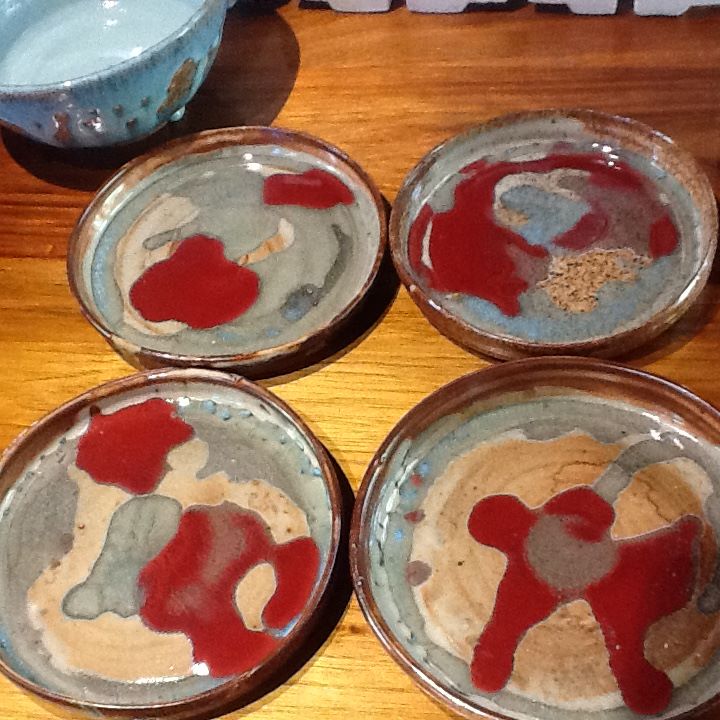 It was Jones's partner Jo Immig, who coined the word 'plowls' for the fabulous double-fired three-glaze plate/bowls above.  "We use them all the time now," says Jones.  "They're wonderful for eating off.  I was very pleased with this batch, the copper reds can be quite tricky and can end up bright blue if the firing doesn't work!"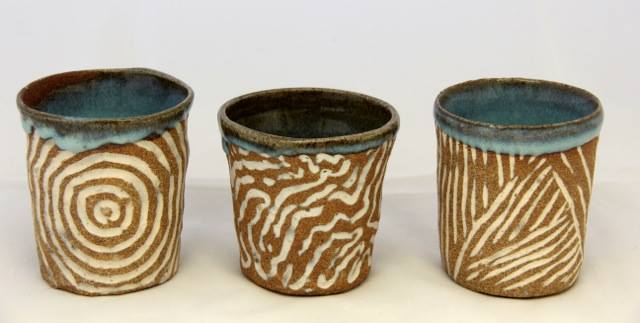 "These cups, or glasses are porcelain inlay on raku clay," says Jones.  "I carve the design- sometimes quite random-and fill it with porcelain. When it's partially dry I scrape off the surplus to reveal the design. I started doing this as an experiment and discovered it was called Mishima in Japan."  For Jones part of the appeal of pottery is the constant experimentation.  "It's led me to creative places I could never have imagined when I started," he says.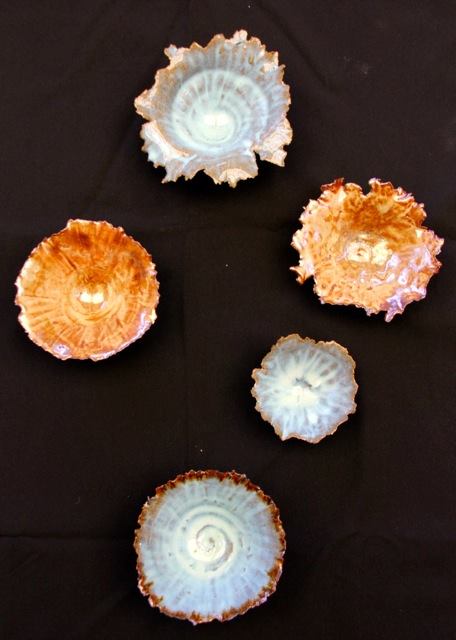 Jones call these his 'star bowls', and says they are reminiscent of his galaxy paintings. "I've stocked up for the Open Studios day," he says.  "I love it when people visit me here where I live and work – it's all about getting back in touch with nature.  There's the roosters, Sebastian, Rupert and Alisdair; the brush turkeys – if you're lucky the koalas – sometimes a python curled up asleep, and hundreds of bird varieties."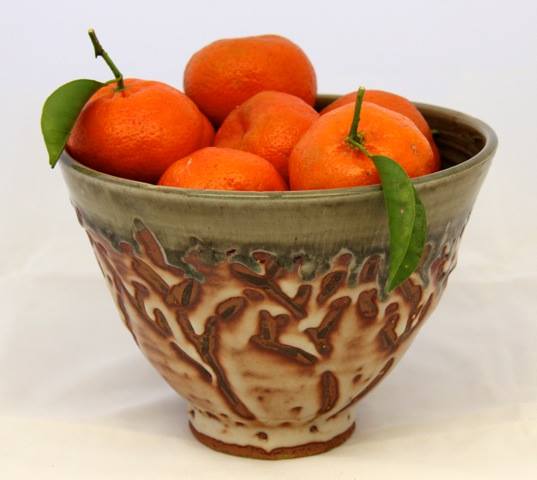 "Each piece –  including the five dollar pieces will save several hundred rainforest trees in Sumatra thanks to Kelvin Davies and the Rainforest Trust," says Jones, and for him the Open Day is not just a chance to show off his incredible range, but with every bowl sold, he knows one more piece of rainforest has been saved.
---
Richard Jones studio is at

56 Gittoes Lane Possum Creek and will be open this weekend, Saturday and Sunday from 10.00am to 4.00pm.
Comments
comments