Bluesfest time is almost here, and there's an awful lot of praying to the rain gods going on right about now.  There's something for everyone at Blues, for sure, but the Blues artists are always the heart and soul of the Festival…
In 2017  The King of the Blues, Buddy Guy, will take to the stage to perform exclusively at Bluesfest. The iconic blues guitarist and singer, who is now 80 years old has been a pivotal force in music history. Buddy Guy has influenced titans like Jimi Hendrix, Eric Clapton, Jimmy Page, Jeff Beck and Stevie Ray Vaughan, is a pioneer of Chicago's fabled West Side sound, and a living link to that city's halcyon days of electric blues.
The inimitable Bonnie Raitt, another incredibly gifted artist joins Buddy on the line up and Mavis Staples, one of the greatest gospel, soul and blues singers of all time, is returning in 2017 for four exclusive Bluesfest performances. Mavis Staples has managed to remain a leading voice in a career that has spanned over 60 years, recently touring with Bob Dylan on his U.S. Summer tour.  She released her latest album Livin' on a High Note in 2016.
After St. Paul & The Broken Bones tore the house down at their phenomenal Bluesfest debut in 2016, a campaign followed to bring them back in 2017. It is with great pleasure that Bluesfest announces the return of the recently expanded Alabama soul eight-piece led by the charismatic Paul Janeway. Since they made their roof-raising debut at Bluesfest this year, St. Paul & The Broken Bones have been selling out theatres across the globe, performed on one of the main stages at Glastonbury Festival and will be releasing their album Sea of Noise this September.
Vintage Trouble blew away Australian audiences with their blistering shows at the festival in 2016, leaving new fans in their wake, eager to see them again; so it's with great pleasure Bluesfest can announce they will be back to rock the festival in 2017. Their brand new single 'Knock Me Out' was released in February; it's anthemic, funky and will be electrifying live.
Vocal powerhouse Beth Hart gained a reputation as one of the 'buzz artists' at Bluesfest in 2014 and 2015, and will be returning in 2017 for Bluesfest exclusive performances. Beth Hart is on fire. Right now, the Grammy nominated singer-songwriter is riding a creative tidal wave, firing out acclaimed albums, hooking up with the biggest names in music and rocking the house each night with that celebrated burnt‐honey voice.
Rhiannon Giddens wowed festival goers with her emotional range and dazzling vocal prowess in 2016, so Bluesfest is thrilled to have her  back in 2017. The Grammy Award winning lead singer of African-American folk interpreters Carolina Chocolate Drops, has stepped out on her own, winning over audiences around the world with, 'the fervor of a spiritual, the yips of a folk holler, and the sultry insinuation of the blues' according to the New York Times.
It can be argued that it was Booker T. Jones who set the cast for modern soul and R&B music and is largely responsible for its rise and enduring popularity. The Rock and Roll Hall of Fame inductee, Musicians Hall of Fame inductee, GRAMMY Lifetime Achievement Award recipient and winner of four GRAMMY Awards pushed the music's boundaries, refined it to its essence and then injected it into the nation's bloodstream.
Bluesfest audiences in 2017 are in for a thrill when Experience Jimi Hendrix takes the stage. Inspired by Jimi Hendrix's unparalleled creative and musical influence Experience Jimi Hendrix is a concert that brings together an all-star line-up of some of Australia's guitar greats each performing their two favourite Jimi Hendrix songs and a couple of surprise duets.
Eric Gales stands head and shoulders among other guitarists in his genre and is out to blow your mind and expand your musical horizons, in fact Joe Bonamassa calls him "One of the best – if not the best – guitarist in the world today." He is known for mesmerising fans around the world with his uncanny connection to his guitar.
In 1954 Mud Morganfield, the eldest son of Blues great Muddy Waters (McKinley Morganfield) was born. Possessing a baritone voice very much like his father's, and blessed with similar vocal phrasing and stage presence, Morganfield cut  his teeth on the southside of Chicago. He soon became a popular draw on the Blues club and festival circuit; mixing both original songs and Muddy Waters classics into his live sets. Regarding his performances of Muddy Waters songs in addition to his own material, Morganfield says, "I started to sing to show the world that dad left me here. I love and am proud to sing his songs just like I love and will always be proud of him. I'm not Muddy Waters and I'm certainly not trying to be Muddy Waters. I'm Mud Morganfield but when I'm up on stage I always feel pops is there with me and it means so much that I can get on stage and keep his music alive around the world." Mud is a dynamic performer and entertainer that can command the stage, engage the crowd, and wow them with some of the best true Chicago Blues they have ever seen.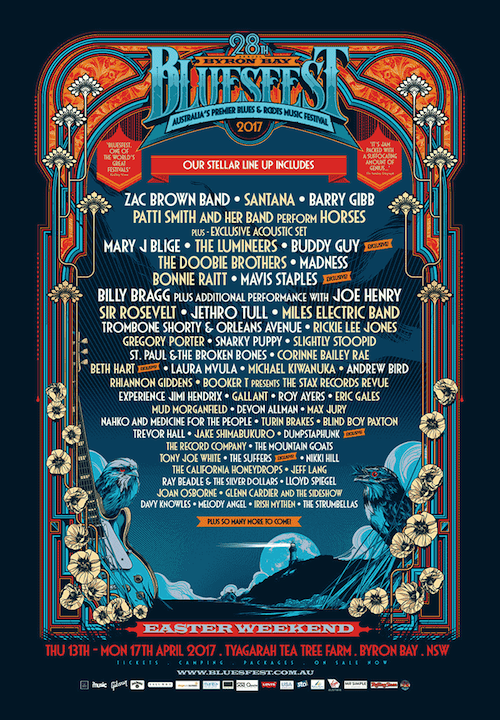 The blonde hair is the same, the body posture is also the same, and there are touches in the voice that have a similar genetic connection, but Devon Allman has toiled long and hard to establish his own musical identity, separate from his legendary dad, Gregg Allman. In 2017 Devon Allman returns to Bluesfest on the back of his critically acclaimed new album Ride or Die. He will once again bring his bring his first rate guitar skills and powerful vocals to the stage at the festival.
Through the ages, there have been a number of famous blind African American male entertainers in Gospel, Blues, Soul and Pop but few as unilaterally gifted as Ellis Hall. What other man can claim to have written 3,800 songs, sung at the funeral of Helen Keller at St.Patrick's Cathedral in New York and before Nelson Mandela in Johannesburg, been a member of Oakland Soul band Tower of Power and a lead voice for the animated California Raisins, been nominated for an Ovation Theatre Award for his first stage role in "The Gospel At Colonus" (in which he sang, acted, and walked the stage and stair props mostly unattended), and penned the official song of the city where he grew up: Claxton, Georgia? Welcome to the unprecedented greatness of Ellis Hall.
World renowned guitarist, and vocalist, Mississippi living blues legend, Cultural ambassador, 2012 Mississippi Musicians Hall of Fame inductee, and 2015 Albert King Lifetime Guitar Award recipient – Vasti Jackson is a powerful force in the world of music. As an artist, Vasti is known for sweat-drenched, soul-ripping live performances marked by some of the most stunning, and innovative guitar playing today. Vasti's stellar vocals, fiery guitar, and stage presence captures the audience, and leaves a lasting impression that celebrates the triumph of the blues, and the joy of rhythm that is soul satisfying to all that are lucky enough to experience his music.
Founded in Los Angeles in 2011 The Record Company immediately took their hometown by storm, hailed by LA Weekly for 'making bluesy music that would sound more at home in a sweaty, backwoods Mississippi juke joint'. They are a band who prides themselves on writing and playing raw, sincere Rock 'n' Roll.
Tony Joe White known to fans as The Swamp Fox is one musician who can certainly call Bluesfest his second home, after multiple performances over many years. The American singer-songwriter and guitarist never ceases to please the Bluesfest audience with his swamp rock melodies.
 Just a couple years ago, Nikki Hill was a bartender with an affinity for punk and a deep love for classic R&B. At her husband (and now guitar-player) Matt Hill's behest, she stepped out from behind the bar and onto the stage. The response has been ecstatic, and now the band tours the globe relentlessly, stunning audiences with their muscular sound, Matt's volcanic leads, and, of course, Nikki's inimitable charisma.
He won the hearts of many Bluesfest goers in 2016, so it's with great pleasure they welcome Jerron "Blind Boy" Paxton back in 2017. This young musician sings and plays banjo, guitar, piano, fiddle, harmonica, Cajun accordion, and the bones (percussion). He has an eerie ability to transform traditional jazz, blues, folk, and country into the here and now, and make it real. He is also renowned for mesmerising audiences with his humour and storytelling. He's a world class talent and a uniquely colorful character. Mastering many styles including country and delta swap blues, Paxton is the real deal and someone Bluesfest is proud to bring to Australia so that audiences here can discover this wonderful artist for themselves.
Bluesfest is proud to welcome Australian-based musician Jeff Lang to the festival in 2017. He has earned worldwide acclaim as a virtuosic guitarist, a dynamic songwriter and a startlingly unique live performer. With a back catalogue of 16 studio albums, Jeff has been featured at major festivals, pubs, clubs, arts centres and venues internationally for the past decade. Blending rock, roots, folk, blues, ballads, instrumentals, improvisation and a devastatingly high level of musicality, Jeff Lang is a singularly unique performer in our world.
Ray Beadle has ripped it up at Bluesfest in the past, and the Festival is welcoming him back with open arms in 2017. Ray's guitar and vocal styles evoke numerous blues legends, whilst concocting a breathtaking style all of his own. It is not by chance that Ray has become a favourite amongst Australian blues and music fans.
One of Australia's most highly lauded Bluesmen will make his Bluesfest debut in 2017. Lloyd Spiegel is an award winning solo artist on the cutting edge of the blues scene in Australia. Australian Guitar Magazine recently named him as one of the 50 top Australian guitarists of all time and he recently won every prize he was eligible for at the Australian Blues Awards.
In the 70s, Australian singer-songwriter/guitarist Glenn Cardier produced three albums of highly original folk/rock songs. He played the first two Sunbury festivals and worked with the likes of Frank Zappa, Spike Milligan, and Fairport Convention. He broke through in the tough UK folk circuit. His hard-strumming, quirky onstage persona was always at odds with his recorded work and through the 80s and 90s Cardier became increasingly reclusive. Glenn Cardier's re-emergence in the 2000s as a songwriter / performer of real distinction has been nothing short of extraordinary. Onstage, there are the trademark flashes of dark humour in his songs of stark beauty and thumping rockabilly/blues. There's a touch of Beefheart in his voice, a hint of Cohen in the lyrics, a pinch of Elvis here and there. But underlying it all are the songs. Happy/sad songs. Sweet/crazy songs. Cardier songs.
Davy Knowles makes his Bluesfest debut in 2017, however he is no stranger to festivals having played Coachella, Lollapalooza and Bonnaroo with his band Back Door Slam. Davy is known for his confident and distinctive guitar playing, commanding solos and tight-knit band. He is originally from the Isle of Man but has moved to Chicago recently where he made his 2016 album Three Miles From Avalon. Peter Frampton has called him "the gunslinger guitarist of the 21st century" so we are excited to introduce him to Australian audiences this year.
Bluesfest is thrilled to that The California Honeydrops will bring their feel good sound to the festival in 2017. The California Honeydrops don't just play music—they throw parties. Led by dynamic vocalist and multi-instrumentalist Lech Wierzynski, and drawing on diverse musical influences from Bay Area R&B, funk, Southern soul, Delta blues, and New Orleans second-line, the Honeydrops bring vibrant energy and infectious dance-party vibes to their shows.
Melody Angel maybe at the bottom of this announcement, but her career is on the rise. Born and raised on the south side of Chicago, she began playing guitar at the age of thirteen. Even though her mother was barely getting by raising two children alone, she found a way to introduce Melody to her first Fender Stratocaster by buying the guitar out of a window of a pawn shop. She has been inspired by an array of artists such as, Michael Jackson, Prince, Jimi Hendrix, Chuck Berry, SRV, Big Mama Thornton, Buddy Guy, Bonnie Raitt, Slash, Lenny Kravitz, Santana, and Jeff Buckley. In her single In This America which is dedicated to 'all the mothers that have lost their black sons unjustly' she sings: 'How do I know it's safe to have a son in this America?' and it is impossible not to be moved by her powerful words and heartbreaking delivery. Melody Angel is an important voice and one that deserves to be heard around the world.
---
For tickets go to: www.bluesfest.com.au
Comments
comments