Scarlett Lewis faced a mother's worst nightmare when her son Jesse was gunned down at Sandy Hook elementary school in the US in a brutal massacre two years ago. Lewis (pictured above with Jesse and her older son JT) not only refused to stay in hatred and anger over the killing, she is now the founder of the Jesse Lewis Choose Love Foundation, an activist for peace and the author of Nurturing, Healing, Love. She is appearing at the 2014 Byron Bay Uplift Festival.
On the morning of December 14th, 2012, Jesse McCord Lewis walked out of his house and down the driveway towards his father who was waiting to drive him to school. Along the way, Jesse stopped to write a message with his finger in the frost on his mother's car: "I love you." Just hours later, Jesse was gone – one of 26 victims of the Sandy Hook Elementary School shootings in Newtown, Connecticut.
Says Lewis of her journey over the past two years: "Before Jesse lost his life on December 14, 2012, he had written a message on our kitchen chalkboard: Nurturing Healing Love, or in Jesse's words Norurting, Hellin, Love! The words 'nurturing' and 'healing' are a part of the definition of compassion across almost all cultures. Love is the foundation on which happy and healthy lives are built."  Even in the depths of her sadness she was proud of her son, who in the final moments of his life had grabbed a moment's hestiation on the part of the gunman to shout at his classmates to "run".  "When I heard he had used his last few seconds on Earth to try and save his friends, I was not surprised," Lewis says.
Before Lewis could, in her words, "choose love", she had to travel the journey of grief and loss. In a recent article she wrote: "The next morning when I woke up, I began to say the prayer I say every morning, which starts by thanking God for all my blessings. That's when reality struck like electricity shooting through my body. Jesse. I had this out-of-control adrenaline feeling, like right before a car accident—but it lasted for weeks. The sensation was so unbelievably horrifying that I felt as if I could disintegrate. I also felt a seething hatred for Adam Lanza, the man who murdered my son. At the same time, though, I knew that force of hatred was the same emotion that contributed to Jesse's death, and to so many others. Deep down I was aware that I had to get past my anger somehow, in order to access my grief for Jesse."
Lewis also discovered that even more complex than forgiving Adam Lanza, the troubled young man who had Jesse, was forgiving herself. "For months after Jesse died, regret crept in—thoughts of things I should or should not have done," she writes. "Like a time-out I gave Jesse one day—it was questionable whether he deserved it but I gave it to him anyway. Or how I snapped at him one morning because the pants I had just bought him were too small and I couldn't button them and I was irritated and I was late for work. Not his fault."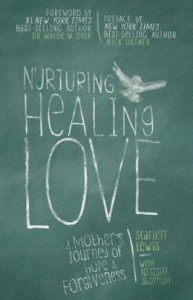 Every day Lewis worked on trying to replace negative thoughts with positive ones, and she consciously turned to Jesse's last written words – Nurturing, Healing, Love – to hold her up. Inspired by Jesse's words, Lewis formed the Jesse Lewis Choose Love Foundation (jesselewischooselove) of which she has said: "Our mission is to create awareness in our children and our communities that we can choose love over anger, gratitude over entitlement, and forgiveness and compassion over bitterness. Our goal is to create a more peaceful and loving world through planting these seeds of wisdom. We are currently developing a compassion – and wisdom-based curriculum to introduce into our schools and communities – inspirational and educational programs that will incorporate this empowering message and also highlight unforgettable stories of young people (including genocide survivors) who have overcome extreme hardship through choosing love over anger."
Scarlett Lewis is appearing on the Uplift Stage on Saturday December 13 at 10.30am and again at 12.30 and 5.00pm.  You can see information on her book here: nurturing-healing-love
For more information on the hundreds of presenters appearing at this year's festival go to: upliftfestival
Comments
comments