The Easter long weekend is almost here we're counting down the sleeps until Bluesfest takes over Byron, and well, it's just one  big musical party for five days.  According to Sam Carberry, there's plenty of local talent sprinkled in with the national and international acts as well.
The first of our locals, Ash Grunwald, is originally from Ballina and now lives in the Byron Shire. He plays tenacious Blues, often loud and bold in lyrical communication.  A social activist, he protested against the anti-mining and emissions of coal seam gas within the Northern Rivers, and his 2013 song The Last Stand was a unifying song for the public protesting against this ongoing environmental issue.
"Mass corporations of our society have one agenda and that is to make money," says Grunwald, talking about his need to drive social change through his music.  "Fair enough, that's business. But when that becomes the sole agenda of these corporations, it becomes inherently sociopathic."  On a positive note, Grunwald has been elated with the progressive work in Silicon Valley. He believes there are organisations out there who care for more than just money. 'These [corporations] are more future thinking and care for the environment and its people," he says. I often wonder what we are doing to this world and what we are leaving for our kids.
Grunwald reveals that he is currently working on a new album, which will see him recording in the USA. His most recent album Now (2015) is a solo album which includeds popular songs such as River and Second Guess. Grunwald is currently discussing collaborations with Bonnie Raitt and Tony Joe White, both veteran Rhythm and Blues performers. 'These guys are people I used to listen to back in the day," he says.  "They are big influences and heroes of mine. On the old school Blues front that would be amazing."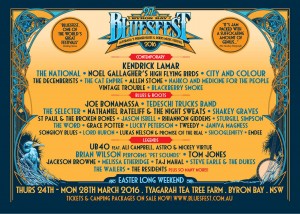 NSW North Coast local, Marshall Okell is a songwriter and solo artist. Growing up amongst a musical family, Okell had an early start in the music scene. His father was a Rock 'n' Roll guitarist and ignited an early passion for Blues and Soul. Marshall Okell's greatest musical influences were Jimi Hendrix and ACDC. During his early twenties, Okell was lead vocalist in the band Marshall and the Fro. The dirty Blues band produced two albums together before eventually parting ways in 2011. After the split, Marshall continued to perform and has toured around Australia working with some of Australia's most recognised artists such as Xavier Rudd, Wolfmother, The Cat Empire and The Living End.
Okell's music plays with a mixture of musical genres including Electric Blues and soft rock. One of his most popular tracks Almost Killed You (Birdy, 2013) has an edgy, body swaying and electric beat that is accompanied by iron-strong bustling vocals.  Marshall, who is currently touring Australia, is making his way through Victoria and performing at Sydney, Newcastle, Marrickville and Towradgi Beach before he takes the stage in Byron.
2012 Bluesfest Busking Competition Winner, Hussy Hicks are a two-woman band from the Gold Coast, Queensland. Julz Parker and Leesa Gentz create a beat with fiery finesse and soul that has you tapping your feet and swaying to the melody.  After almost ten years working together, Hussy Hicks continue to take their music to new levels. Most recently, the duo are wrapping up a seven show tour, performing in Western Australia.
Hussy Hicks cannot be categorised under one particular genre of music. Their style incorporates blues, country and folk, all with one guitar. Hussy Hicks have a six edition discography, with notable mention going to tracks such as People of Passion (The London Sessions, 2013) and Happy (Live at the Soundstage, 2009). Every song has a message or a story to tell and there is a vibrant recurring message that resonates within Hussy Hicks' lyrics – namely that loving life and each other is worth more than materialistic possessions and past regrets.
In the lead up to the Easter long weekend, Byron Bay has another tradition that accompanies the musical Festival: the Bluesfest Busking Competition. This is an unmissable opportunity for local talent and the competition has become a platform for artists to be recognised and received amongst national and international artists. The Bluesfest Busking Competition has released its 40 Semi-finalists who will battle it out to win the ultimate chance to take the Delta Stage Easter Monday. The competition concludes on Good Friday, March 25; after which six chosen finalists will perform at The Beach Hotel in Byron Bay. The event kicks off at midday.
---
Ash Grunwald will be performing twice at the festival. You can catch his first appearance on Sunday March 27, at 2:30pm at the Jambalaya tent. His second show is at the Crossroads tent at 1:15pm on Easter Monday.
Marshall Okell will be performing on Thursday at 4.00pm at the Juke Joint tent. If you miss Okell on his first performance or want to hear that deep, dirt Blues a second time, make sure to be at the Jambalaya tent, midday on Easter Monday.
You can catch Hussy Hicks performing at Bluesfest on Easter Sunday, at the Delta tent from 12.00pm.
For more information go to: bluesfest
Ticket prices begin at $159 per adult and $45 for a child for a one day pass.
Comments
comments