Deeper Water by Jessie Cole, Fourth Estate rrp $29.99 346pp
In literature, and in film, there are some classic plots almost guaranteed to grab the audience's attention. The Stranger Comes to Town is one, Coming of Age is another and what in England we might call Something Nasty in the Woodshed (a reference to the wonderful novel Cold Comfort Farm) is another.
Like a practiced chess master, local Burringbar author Cole, who grew up in relative isolation on a country property, has used all these themes to create a novel that is as deep, chilling and sensuous as the title itself. Her first book, Darkness on the Edge of Town, (which also used the stranger in town device) was good, this one is not just better, it's extraordinary.
It's ten years ago this year since I moved to the Byron and during that time we've experienced nature at its best and worst. You don't need to live in the country to appreciate Cole's novel, but it's certainly familiar territory – which she writes about with tender clarity – if you do happen to have suffered from the arbitary forces of nature. At the start of Cole's novel, we're introduced to the main character, a young woman, Mema, who, like Cole, has spent all her life living on the family property – she's trying to get a cow who has started to calve away from the edge of the rapidly swelling creek, when a car is washed off the close-by bridge. Mema rescues the young man, Hamish, with a long branch, bringing herself close to disaster at the same time. When Hamish is finally safe, his 21st century life and all its accoutrements in the bottom of the creek, he takes one look at Mema, and says: "Fuck, you're just a girl".
Just a girl. Mema thinks how horrified her mother would be, and in the space of a remarkably short time we get the idea – Mema is a capable 22-year-old, who also happens to have a club foot; her potter mother has alienated all the surbanites in town with her 'feminist' ways, and because she's had children to different men, all of whom have left her. Mema's older sister already has a toddler, and a baby on her hip; Mema's best friend, Anja, is as light and as unstable and dangerous as mercury, with a father who is a drunk, and possibly abusing her. Into all of this strolls Hamish, the city-slicker, an environmental consultant who is in the area to asses a proposal to turn sugar cane waste into power. And then there's Billy, a somewhat brooding presence, who's had the 'hots' for Mema for years.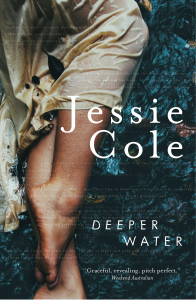 It's a volatile mix, but no less volatile than Cole's actual life, and if a writer is as good as their material, then sadly for Cole, she has been given first-class material in the suicide of her older sister when she was a teenager, which drove her psychiatrist father to madness, and also eventually to suicide. With two young children by the time she was 23, Cole was suffering depression when she first went to see a counsellor who encouraged her to write everything down as therapy, and in an ironic twist of fate, the life that had caused her such deep grief, has become a deep well of complex emotional material.
It's almost inevitable that Mema, who has never taken much notice of men, should fall for Hamish, but Cole doesn't take the easy route of giving Mema and Hamish a relationship, instead all of Mema's longings are stirred into a melting-pot of desire and confusion which, in the end, allows her to notice Billy, and his devotion to her.
There is warm, rather than cold comfort in this novel, in the end, which is perhaps testament to Cole's growth as a writer. Where her first book was chilling to the bone, Deep Water allows for, in amongst the tragedies, the sweeter things of life – that a local farmer who has been leaving flowers for Mema's mother at her driveway, should finally be given permission to approach the prickly matriarch, that Hamish should warn Mema that the company he works for does not necessarily have the area's best environmental interests at heart; that Billy and Mema, despite misunderstandings, begin to see themselves as a couple.
One of the most compelling aspects to this novel is the way Cole writes about landscape. In this book – and parts of it remind me of Peter Carey's ability to make the landscape a character in itself, in both Bliss and Oscar and Lucinda – the landscape is a living, breathing entity. Mema's connection to it is visceral, and in a sense it is the force of nature – the flood, her awakening to love in the woods around her house, a potentially lethal fire, her call to environmental action, that create a backbone, or trunk, for the novel. If Mema's mother is the brooding matriarch of this big, scattered, somewhat chaotic family, then this country of the Northern Rivers is the matriarch of the entire novel, a Kali-esque presence that can switch from giver to destroyer of life in a few minutes, but whom, in her turn must be mothered and nurtured. It's that unseen compelling Gaia presence that certainly keeps me here, where life is often extreme in surprising ways.
For me a pre-requisite for a novel is that it should transport you to another time and place, and allow you to connect to its characters. I walked around for days imagining myself in the world of Deeper Water and I can't think of higher praise than that.
Comments
comments