The Dance Makers Collective new work, DADS, is opening at Jasper's Corner old church in Federal on Friday February 20.  The DMC have been hassling Dads all over the countryside to share their dance stories, and it's Federal's turn to witness the result…
Says Philip Channels, director of Dance Integrated Australia: "Dance Makers Collective is a group of Sydney based dancers and choreographers. With a fluid, collective structure DMC aims to support the development of new dance work by its members, from research stages right through to production, building vibrant and highly collaborative working relationships."
The second stage development of DADS will be held at Jasper Corner from Monday 15 – Saturday 20 February 2016. For this production, the Collective are seeking advice from their Dads…on how to make dance. 'Dad dancing' is much derided, but ask a dancer's father, "when is it ok to dance?" or "why bother dancing?" and the answers are not what you'd expect.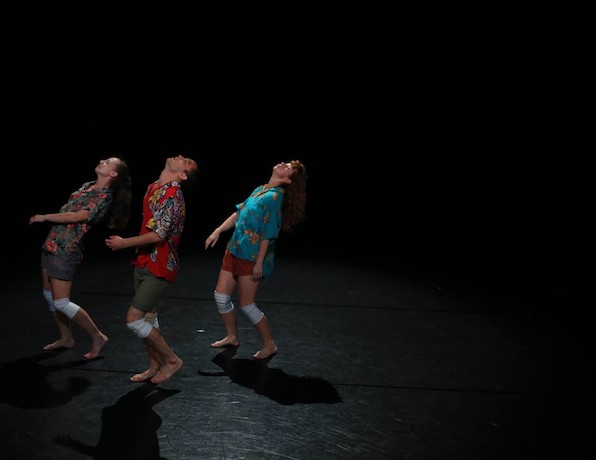 Enter a world of secret solo dance practices, gender bending, philosophising and joyful experimentation. As contemporary dancers take their art form for a walk back through their family history, they investigate the cultural relevance of dance and its timeless ability to nurture collective experience.
"Dance Makers Collective has imagination, thoughtfulness, individuality, performing ability and commitment. Even a sense of humour." Jill Sykes, Sydney Morning Herald
The DMC artists will lead an open level community workshop at Jasper Corner from 10:30am – 12:30pm on Wednesday 18 February. They will guide participants through a yoga / contemporary dance warm-up, some of their our own creative / improvisation tasks, and finish with repertoire from the upcoming show. So, if you know a Dad, are a Dad, have seen a Dad dance, have danced, like dance, like to watch dance, then this is a showing for you.
---
Cost: $20 / person.
To book your place, go to https://bit.ly/1Qt9MBU
or email [email protected] or [email protected]
Top Photo: Heidrun Löhr / from L – R: Tony Sciberras, Carl Sciberras, Anya Mckee and John Mckee
DADS is on at 7:00pm Friday 20 February. Free tickets – go to the Eventbrite link: https://goo.gl/BImxya. BYO refreshments.
This project is supported by Arts NSW, FORM Dance Projects, Parramatta Artists Studios and Dance Integrated Australia.
For more information about DADS, visit the link below
t 0266 884408 / m 0432 073 304
Comments
comments