It's been described as 'electric', 'rocking' and a 'dramatic triumph'.  Now's your chance to see Wes Carr, Ben Mingay and a star-studded cast at Jupiter's Casino Theatre on the first weekend of August.  Simply tell us in 25 words or less why you would like to win a double-pass to Rolling Thunder Vietnam to be in the draw.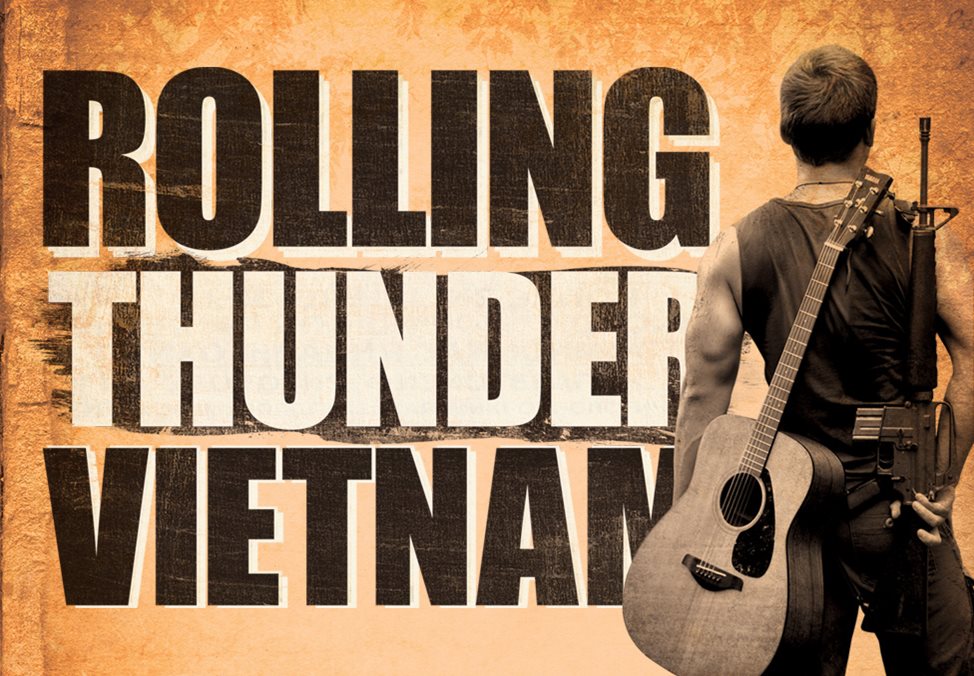 'An absolutely rocking piece of theatre' – Sunday Times
'A musical and dramatic triumph' – Herald Sun
'Electrifying…the show reaches deep into the soul' – ABC Radio
THE sensational Australian concert drama Rolling Thunder Vietnam – Songs That Defined A Generation returns for an exclusive national tour in July-August 2016 to commemorate the 50th anniversary of the Battle of Long Tan.
The acclaimed production became one of the most talked about musical and theatrical events of 2014 when it toured nationally after premiering at the Queensland Performing Arts Centre (QPAC) in Brisbane. Under the blazing musical direction of Chong Lim (John Farnham Band, Dancing With the Stars), Rolling Thunder Vietnam earned standing ovations at every performance, winning plaudits from audiences and critics alike.
Rolling Thunder Vietnam showcases an outstanding cast, starring the powerhouse Wes Carr  (Australian singer songwriter and recording artist, best known for winning Australian Idol 2008), Ben Mingay (star of Television productions Wonderland and Packed to the Rafters as well as major theatre roles in Jersey Boys and Dirty Dancing on London's West End). Other cast members include rising talents Tom Oliver, Will Ewing and Matt Pearce(currently appearing in the musical RENT at Hayes Theatre Co).
Announcing the exclusive 2016 season of Rolling Thunder Vietnam, producer Rebecca Blake said that it was only a matter of time before the show was back in front of audiences again. "The positive response from Vietnam Veterans and their families was overwhelming. It was as though they'd been waiting for years to experience their story on stage in such a vibrant and powerful way."
The soul-stirring production includes many of the greatest rock songs ever written and produced, including classics by Steppenwolf, Joe Cocker, Buffalo Springfield, Creedence Clearwater Revival, Gladys Knight, Billy Thorpe, The Rolling Stones and Paul Simon.
The Vietnam War was the world's first televised war. More than any other conflict it produced some of the most popular and enduring songs of the 20th century. The 2016 tour of Rolling Thunder Vietnam coincides with a number of planned events to honour the 50th anniversary of the Battle of Long Tan. The conflict took place on 18 August 1966 in a rubber plantation near Long Tan in Phuoc Tuy Province, South Vietnam. Eighteen Australians were killed and more than 20 wounded.
The 'songs that defined a generation' include Fortunate Son, All Along the Watchtower, The Letter, What's Going On, Born to be Wild, Killing Me Softly with His Song, We've Gotta Get out of This Place and Bridge Over Troubled Water.
---
GOLD COAST PERFORMANCES:
VENUE Jupiters Theatre, Jupiters Hotel & Casino Gold Coast
SEASON Friday 5 and Saturday 6 August
Evenings 7.30pm. Sat matinee 2pm
TICKETS From $79.90
BOOKINGS 132 849 or www.ticketek.com.au
Or Jupiters box office (07) 5592 8303 Groups 10+
Call 1300 364001 or [email protected]
Comments
comments