When Harry deLeyer bought an $80 horse bound for the knackery, it was the start of an extraordinary relationship that was to last for years.  Now you can catch the documentary at the Mullumbimby Civic Hall on Saturday November 5, and Verandah Magazine has a double pass to give away.
In 1956, Harry deLeyer arrived late at a New York auction where he'd hoped to buy a horse he could use to teach kids to ride.  The only remaining animals were those heading for the slaughter house and Snowman, an eight-year old former plow horse, was one of them. But Dutch immigrant and former resistance fighter deLeyer recognized a certain fellow spirit in the big grey, buying him for $80, setting them both on
an extraordinary journey.
Noticing the horse's natural talent at jumping fences, Harry began training Snowman as a show jumper and within two years, the pair won the triple crown, becoming the most formidable force – and world-famous attraction – that the sport of prestige show jumping has ever seen. Snowman appeared on television shows including Johnny Carson's Tonight show (where Carson climbed on his back). He was the subject of two books, had his own fan club, and was flown abroad for 'guest appearances'.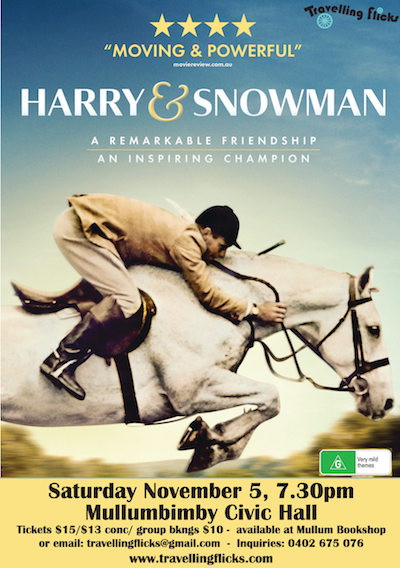 Harry & Snowman is a captivating documentary about the amazing friendship forged between an unfashionably bred Amish farm horse and the man who saved his life. Both were unique in their own ways. Harry and his wife had eight children, and a highly unusual way of seeing life.  Now 86, the 'Galloping Grandfather', as he is known, still rides and trains horses on his farm in Virginia.
As for Snowman, he just loved being around people, whether performing for a crowd at the height of his powers, or offering a small child a ride on his back.
This multi-award winning documentary is the first time that Harry & Snowman's remarkable and heartfelt story has been told by Harry himself. The film includes incredible archived footage that transports viewers to the triumphant moments in the dynamic duo's lives. Snowman retired from competition in 1962 to Harry's farm in Long Island where he lived comfortably until his death in 1974. He was inducted into the Show Jumping Hall of Fame in 1992.
Harry & Snowman screens at Mullumbimby Civic Hall on Saturday November 5 at 7.30pm. Tickets available at Mullum Bookshop for $15/$13, group bookings (10 or more) $10. For more info phone 0402 675 076 or email [email protected].
Comments
comments