Nadine Abensur welcomes in the spring with a salad  of sardines with flat leaf parsley, sumac soused red onion, pink grapefruit, artichoke, olives and walnuts.
It might seem a little strange to use parsley as the primary ingredient, almost, in fact, the be-all and end-all of the plate I've chosen for this month's recipe, but this salad's precedent, tabouleh, is probably the most commonly known of all middle eastern salads, so I reckon it's in good company.
Verdant leaf, the jewel glint of ruby grapefruit, sumac soused red onion, the salt sea punch of sardine and the lingering sweetness of artichoke – perfect fare for summer's end (I am in acheter viagra Europe) or summer's start, new love (in my case) or old love mingling with the sunshine.  I know because we ate this, having been living on amour and eau fraiche for a week, my love and I.
Ingredients
50 g flat leafed parsley
10 quarters of artichoke in oil
2 thick slices ciabatta, trimmed and cut into cubes
1 dozen black olives
1/4 red onion finely sliced soused in: 2tsp white balsamic or other sweet vinegar, pinch sea salt, very finely minced garlic clove, teaspoon or so of Sumac
4 walnuts halved, finely sliced
1 ruby red grapefruit
4 – 6 sardines
To serve:
Olive oil
White Balsamic or lime juice
Extra sumac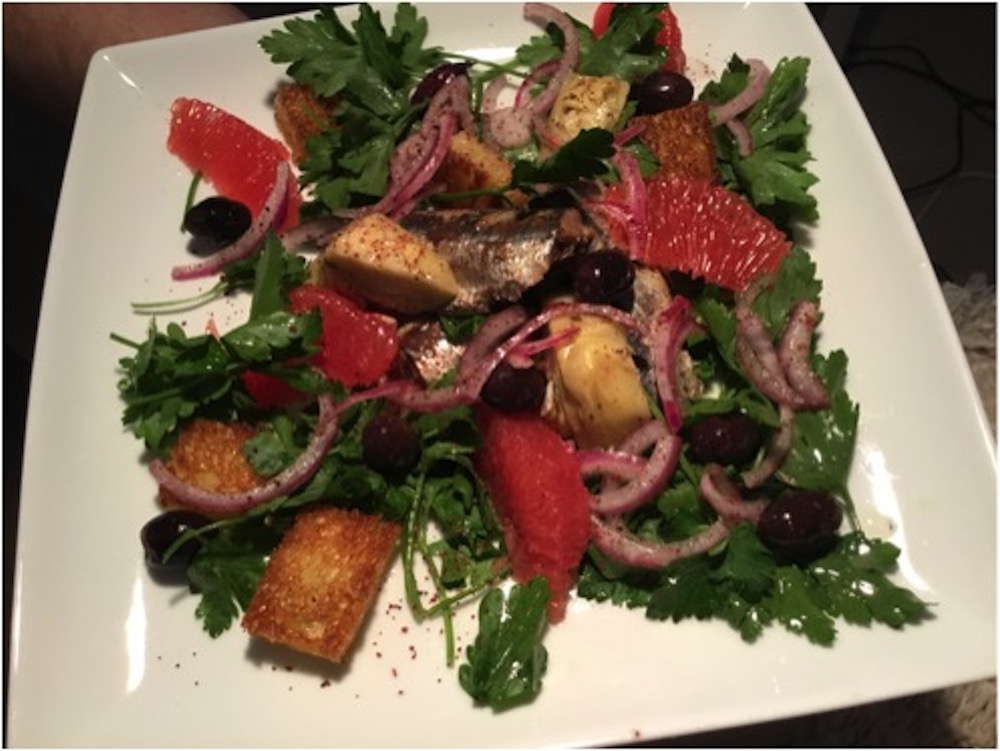 Method
Allow a handful each (about 50 grams in total) of flat leafed parsley – washed, shaken dry, and the toughest stalk snapped off.
Remove peel from a ruby red grapefruit and use a small, sharp pointed knife to fillet into segments, discarding pith and skin.
Allow to each 4 or 5 artichoke quarters, a half dozen olives, 4 walnut halves, finely sliced(too joyfully distracted for the photograph to remember them), a quarter of a red onion, sliced superfine and a couple slices of ciabatta bread, trimmed of crusts and cut into cubes to fry to golden brown in two tablespoons of hot olive oil.
My sardines were tinned – I don't have the luxury of the Byron Bay or Ballina fish shops where you – lucky you – can find fresh sardines to lightly fry or throw on the barbie. Two to three per person makes light of your Omega 3 requirements and will make you live as long as a Sicilian.
Assemble the ingredients loosely onto a plate, douse with olive oil and a little balsamic and share.
Warning: the oily fish, the artichokes, the copious fruit and veg make up the legendary mediterranean diet and are by all accounts – including this one – aphrodisiacs. So careful who you serve this to. And when. And where.
---
Nadine Abensur is the director of the Mullumbimby Art Piece Gallery
Comments
comments