It's just a short drive down the road to Coffs Harbour Regional Gallery where they're launching a new National Still Life Award, and several exhibitions that celebrate the past – and present.
The still life genre was proposed for the Coffs Harbour Regional Gallery in 2007 as there was no pre-existing art award in Australia with this subject. Ten years later the EMSLA remains the only award for the still life genre in Australia and attracts entries from all around the country from artists in all stages of their careers. Building on the foundation established by the Gallery in 2007 with the support of Sydney based business man and sponsor, Dr. Mal Eutick, the Eutick Memorial Still Life Award has established Coffs Harbour Regional Gallery as the home of the still life genre.
The still life award has become a signature event in the cultural calendar of the Coffs Harbour region and has a wide ranging audience demographic from curious community members to avid art lovers. Now, the gallery is set to raise the Still Life bar even higher. The National Still Life Award will become a biennial exhibition from 2019, alternating with Grafton Regional Gallery's JADA (Jacaranda Acquisitive Drawing Award).
The next still life award exhibition is on between 24 November 2017 – 20 January 2018.
East Coast Encounter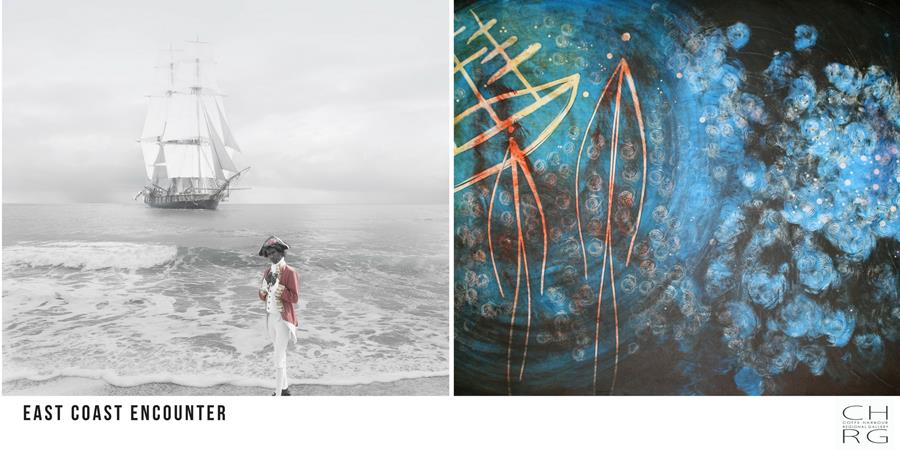 East Coast Encounter is a multi-arts exhibition involving Australian Indigenous and non-Indigenous artists, writers and songwriters to re-imagine the encounter by Lt James Cook and his crew with Aboriginal people in 1770. East Coast Encounter has had over 78,000 visitors across Australia's East Coast since its inception in 2014. Coffs Harbour is its final showing before it returns home to the Australian National Maritime Museum.
East Coast Encounter will be opened by Donna Carstens, Indigenous Programs Manager, Australian National Maritime Museum.
This is a FREE event. However bookings are recommended.
Exhibition Opening Night
Friday 28 April, 6 – 8pm
Enjoy light refreshments
Join the Friends of the Gallery for an informative curator's tour of East Coast Encounter, a multi-arts initiative re-imagining Lt James Cook's first encounter with Australia's Aboriginal people.
The Curator's Private Tour with co-curator, John Waldron
Thursday 27 April 2017
5.30pm for 6.00pm start
This is a FREE event. However bookings are ESSENTIAL.
Reserve your ticket now.
Not So Solitary

On now until 24 June
Coffs Harbour Regional Museum
Poetry, music and linocuts inspired by memories of the place now known as the Solitary Islands Marine Park. Together with historical photographs and artefacts, this exhibition draws on an extensive oral history project by the NSW Department of Primary Industries with Aboriginal knowledge holders, commercial and recreational fishers, tourism operators, divers, marine scientists, surfers and more. Explore the rich heritage of this special place where warm tropical waters meet and mix with cooler currents from the south, bringing species, people and ideas together.
---
Comments
comments