Unfortunately for two of my sons, my sister and me, our birthdays closely follow Christmas, meaning that our special days traditionally meet a rather jaded response from family and friends weary of buying presents and having parties.
Undoubtedly this is why we're such stoic types, a fact pointed out by the Capricorn-the-Goat coffee mug birthday-gifted to me by my daughter. As the mug declares:
"Capricorns are confident, wise, practical and strong willed. Although they sometimes succeed in becoming wealthy they be melancholy if their ambitions are not realised. They like to be in positions of authority although they should avoid pessimism and the tendency to criticise. Despite making good and faithful friends their ambitions can make them lonely."
Well, that set me back on my pessimistic, lonely and melancholy heels. (Or hooves, rather.) The situation became even more lugubrious when the mug revealed all about the classic Capricorn's makeup. For example, my Planet is Saturn; my Element is earth; my Stone is garnet; my Metal is lead; my Colour is grey or black; my Flower is hemlock.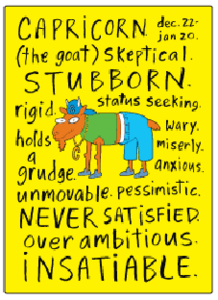 Saturn? Lead? Grey? Hemlock? How's that for a sombre and spartan line-up of astral attributes, you wispy, colourful, flibbertigibbet Aquarians? Hemlock is a poisonous plant whose liquid was used in ancient Greece to execute people, including Socrates. The mug went on: "Suitable careers – politician, lawyer or banker."  That was really rubbing it in.
Anyway, when the family with their customary weariness asked what I wanted for my birthday this year, I just replied, with suitable leaden melancholy, "Nothing, thanks. Don't worry, I'm fine."
That seemed to suit everybody a bit too conveniently, so I added hastily, "Well, what about lottery tickets?" (See, still suitably melancholic and pessimistic but also faintly practical.)
Ever since I was 17 and my friend Johnny Thirsk won the lottery, had his name published in the Daily Mirror and bought himself a shiny new Ford Falcon when we were all borrowing parental cars or driving rust-buckets, I've dreamed of winning it.
When contacted as a prize-winner by the Lottery people, I would, however, depart from the accepted response of Australian lottery winners. I'm determined never to say, "This will not change me at all."
But my favourite Australian lottery winner in 2015 was the fellow who won $16.6 million. When asked how he was going to celebrate, he said solemnly, "I'm going to buy myself some apples and bananas."
Of course it would. How tiresome of you lucky buggers to always lie about this. You've just lucked into $50 million and you'll still trudge into work every day at the Water and Sewerage Board?
While swimming laps or walking on the beach or lying in bed I often daydream how I would spend a really vast sum. Imaginatively and well.
I would not be declaring, as did the chap who won $20 million in OzLotto last August, "We are simple people who don't go over the top and still won't. We might buy a slightly more expensive bottle of red." Oh, please.
Or follow the words of the man who won the Powerball $50 million in July: "We will remain the same grounded people as before. We will do some much needed home renovations." Save us.
And smack me down if on winning $30 million in OzLotto, like one family did in December, I announce to the Press, "We're just excited to be able to get the scratch on our son's car fixed and buy some new T-shirts."
Is their some abject-humility competition going on among local lottery winners? No one says happily, "I used to be poor and now I'm not. I'm very lucky and very rich. Drinks all round!. Whoopee!"
Everyone seems desperate to announce that "the win will definitely not change us." Are they scared of jealous neighbours bitching about them? Why else would another major winner last year say he was going to spend his prize money on getting his lawn mower fixed. My advice for him: "You're a multi-millionaire now. Go crazy — buy a new lawn mower."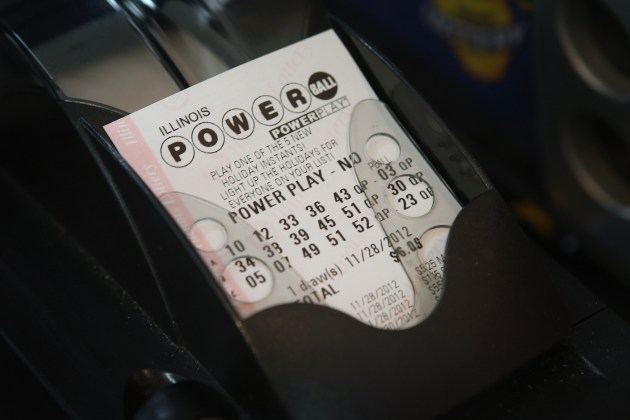 Another winning fellow showed how ecstatic he was by declaring his intention to buy a new washing machine.
But my favourite Australian lottery winner in 2015 was the fellow who won $16.6 million. When asked how he was going to celebrate, he said solemnly, "I'm going to buy myself some apples and bananas."
On the subject of lotteries, a family friend has a farmer uncle famed for his tight-fistedness. Uncle Mick never forgets her birthday or Christmas presents. He always sends her a scratchie lottery ticket. But he scratches them first in case they're winning ones.
And my 2016 birthday lottery tickets, one from each member of the family? How did they go? What do you think?
---
Robert Drewe's latest book, The Beach, an Australian Passion, has just been published by the National Library of Australia and is available here: the-beach-an-australian-passion His other recent books The Local Wildlife and Swimming to the Moon are on sale here: penguin.com.au
Comments
comments