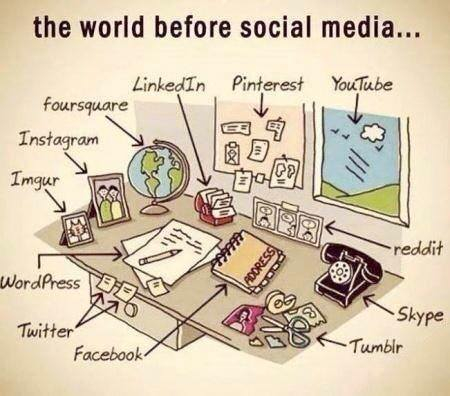 After ten years surviving the chilly winters and climbing the heights of Melbourne's marketing landscape Verandah's social media expert, Lucy Birchley, opted for a tree change recently moving to Byron Bay with her partner – where she shares her Social Media know-how with anyone who will listen (us for starters) and writes books in her free time. 
For a lot of people the idea of using Social Media is daunting. If you're not 'tech savvy' the jumble of acronyms and words like 'hashtag' and 'meme' can leave you feeling completely bamboozled. But the thing about social media is it's not as complicated as it first appears (I promise) and if you run a small business it can be a great investment of your time.
A recent US study found that 72% of all adults online are using social media and that Facebook alone has over a billion users worldwide. From a marketing point of view there is no time like the present to start leveraging one of the fastest growing areas of online social interaction and a vibrant landscape for new customers.
Most people, especially those who run their own businesses, have limited time. So where should you be focusing your attention? Whether you're catching up with friends or securing your next business deal it's important to choose the right social media platform for your needs.
There are lots of Social Media networks out there but the 'Big Four' are still Facebook, Twitter, Instagram and Pinterest. Each provides a different experience and can be used for different purposes; some can even be used alongside each other for maximum effect.
Facebook
What is it good for?  Connecting with family and friends, finding old school mates or building a 'community'.
Facebook is generally the most widely used social networking platform. From what began as a local network for college students in the USA, it has grown into a worldwide phenomenon. Simple user-friendly design has guaranteed its success with all demographics and its principle function of connecting you with family and friends makes it a great starting point for any new social media user.
From a business perspective Facebook has, in the past, been the perfect tool for fostering a loyal community of customers through its Page function, however as the network's influence and user base has grown, the introduction of paid advertising has handicapped small businesses' ability to have their content reach even a tiny share of their natural audience.
That said Facebook is perfect for those with at-home businesses or people beginning community groups online.
Twitter
What is it good for?  Instant news, finding interesting blogs and articles to read and getting updates from your favourite brands.
Much like a news service Twitter allows you to 'follow' people or brands creating a custom feed of content that is suited to your tastes. Some famous Tweeters include Stephen Fry, Barack Obama, Justin Bieber and God.  The great thing about twitter is that you don't have to follow the crowd. If you have a set of specific interests say, travel, philosophy and science then you follow people like, Lonely Planet, Philosophy Tweets and Neil deGrasse Tyson and filter out all of the content you don't want to see.
For business this is a good platform for B2B and B2C interactions. It is also great for news worthy updates and customer service, however as it is styled as a news service it requires an investment of time as things move quickly.
Instagram
What is it good for?  Style watching – seeing pictures of beautifully styled and delicious food, fashion, makeup, celebrities and lifestyle.
Like taking photos? Then Instagram is for you. Directly attributed to the rise of the 'Selfie' (taking a photo of one's self), this platform is for the artistic at heart.
It is also fantastic for people or businesses that create products as it is ideal for product shots. Much like Twitter you can 'follow' other users who share your interests as well as like and comment on their posts. Unlike other social networks Instagram is solely mobile, meaning it can only be used on smartphone and tablets and adding links and reposting someone else's picture is very difficult.
Pinterest
What is it good for?  Organising events, parenting tips, clothing, exercise routines and motivation, recipes and travel.
Pinterest can be most likened to online scrapbooking.  The basic idea is to collect interesting visual content from around the Internet and share it with the people who follow you. Very easy to use and actually quite a lot of fun once you get going, Pinterest is fantastic for people who love organisation and visuals.
What makes this platform so interesting is its ability to collaborate and organise 'pins.' If you are planning an event, such as a wedding and trying to find the perfect dress/location/decorations/food, you can create a board (say 'My Wedding') where you pin all of the items that fit your desires in one place. Other users can then like, comment or re-pin your content to their own boards. Each pin requires a description and in many cases a link back to the original webpage which means this is a great tool for driving traffic back to your website or blog.
Social media is fun, easy to use and a great investment for your brand. With such a huge portion of adult users online it makes sense from both a person and business perspective to join in.
Comments
comments