It's not everybody who can boast a career that includes being a drama teacher, voice coach, gym owner, Asian grocery business proprietor and women's fashion shop co-owner, but Leslie Ford is no ordinary business woman.
I'm standing in the carpark behind Red Ginger in Byron Bay, waiting for Leslie Ford, the shop's owner, and she's talking to a bearded, barefoot man who's asking if he can have some money upfront to clean her car.
"Last time I gave you money upfront," says Ford, a little sternly, "you didn't come back for six months."
"But I came back," he says, with irrefutable logic.
Ford almost visibly sighs. "Alright," she says, "but you have to do it in the next few days."  The man nods enthusiastically.  "Of course," he says.
Afterwards chatting over a cup of tea, she tells me that he's the best car cleaner in town, he's just a bit, she says, mildly, "idiosyncratic."
But today Ford is prepared to be a bit generous. She's in the final throes of organizing something very special – the entry of Red Ginger's dumplings into the Sydney market.
"I'd like a dollar for every time one of our visitors to the Red Ginger stores has asked us where they can buy our dumplings," she says. The good news is that as of this week Sydney-siders can purchase them. "They're going on the shelves of IGA in Cremorne, Pennant Hills and Blaxland as we speak," says Ford, who is excited by this new Red Ginger venture. The dumplings are also available at the Ferry Road Market in Southport with more Brisbane suppliers to follow.
Not that Ford, who is originally from New Zealand, and originally trained as a voice and drama coach, had ever imagined that she would own an Asian Grocery store, but as she says: "When you arrive to live somewhere you have to work out what it is the place needs, and when my then-partner Marina and I moved to Byron in 2001, that was the question we asked ourselves."
While they were pondering their next move they discovered that the small Asian grocery store in town, Westies, was for sale. "We bought it, painted it red and started with what we thought would work," says Ford. "I'm still a bit startled with our leap of faith even now."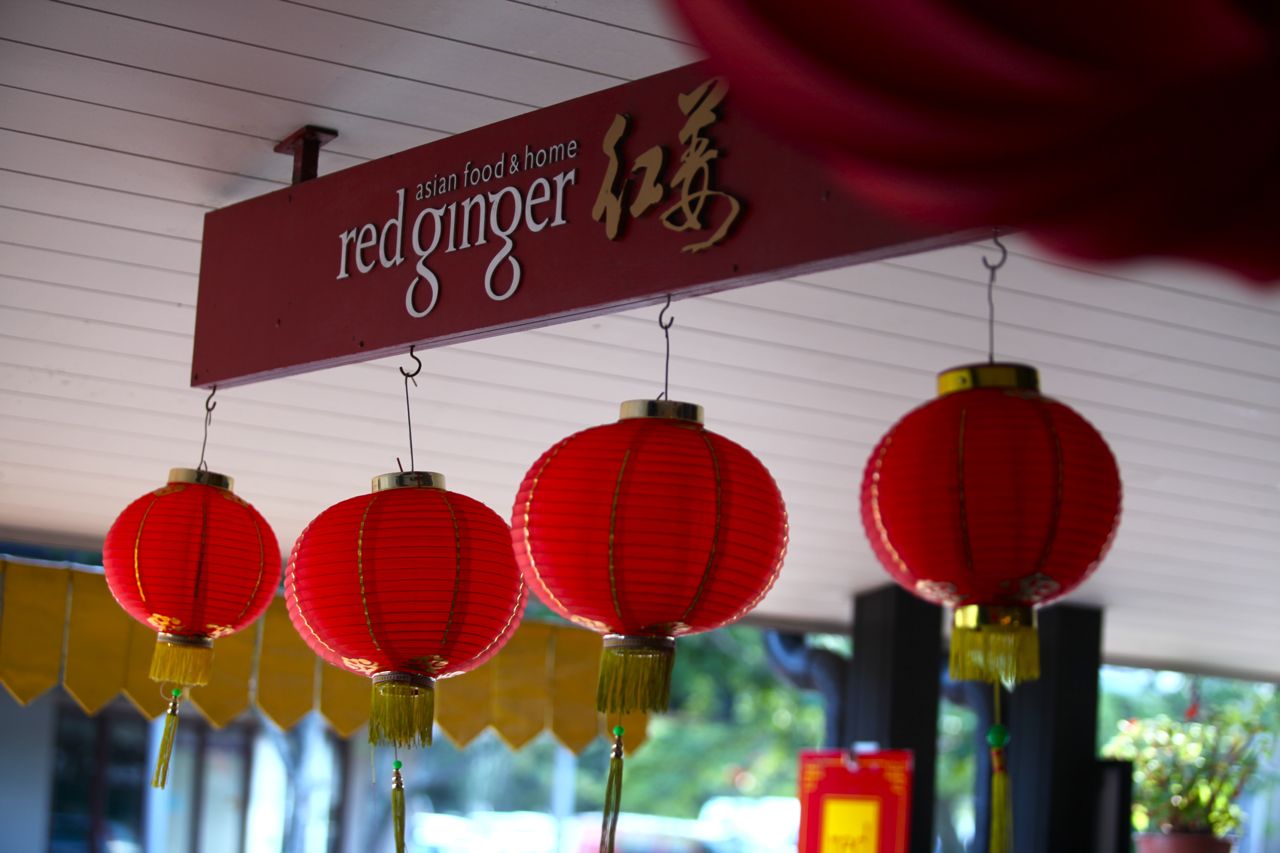 But it wasn't the first time that Ford had taken a leap of faith. In fact four years before she had left behind her position teaching voice and drama at the Steiner school teacher training in Sydney to run – believe it or not – a gym in Port Hedland. Not exactly an obvious career change as she's the first to admit. "It just kind of happened," she says. "I had been making jokes about going to Antarctica to run a café. You have to be careful what you ask for because before I knew where I was my partner's brother was offering us an opportunity to run a gym and fitness centre."
Ford laughs at the memory. "Now there was some lateral thinking," she says. "I'd only ever had failed gym memberships, and there I was being offered the chance to run a gym! But we decided to leap in and do it, and it was amazing."
The couple lasted four years. "It was, of course a very isolated and somewhat blokey life," says Ford, matter-of-factly, "but at the same time it was beautiful – the colours are amazing – the red/orange, the milky turquoise water, and there was a lot we loved. We formed an arts council, we had exhibitions in the gym, we became very involved with the community, but in the end we missed life on the Eastern coast to be honest. We missed the colour green."
So lured by the promise of the sea and the green hills, they ended up in Byron.
Fast forward 13 years from the day they opened the first Red Ginger, and two stores – in Byron Bay and Bangalow have become a much-loved part of the permanent eating scene, visitors and residents alike. The eclectically colourful stores stocking everything from Chinese furniture to tea and soy sauce, almost beckon you in from the street, and of course, one of the most popular sellers of all, are the freshly steamed dumplings.
"We were moving into a larger premises in Byron," says Ford, "and we knew we had to create a bit more cash flow. We'd been thinking about installing a dumpling steamer, and then our dumpling supplier mentioned he had one he wasn't using, and he'd give it to us so we really didn't have anything to lose."
It was an inspired move, and is now half the business in both the stores. "It's been a phenomenal success," Ford says. "In quiet times it really keeps the shops going, and in busy times, it's the cream – plus, of course we found there was a big market for frozen dumplings as well."
Over the years Ford has become, on her own admission, a canny business woman, and as well as Red Ginger, she recently diversified with another business – the upmarket women's boutique, Bell & Ford, conveniently placed right next to Red Ginger. "It just so happened that the shop next door became empty," she says, "and I was thinking to myself that I really ought to come up with a good idea. At that same time Annette Campbell was working for me here in the shop, and she had a friend who was making a great range of clothes." Hedging her bets, Ford asked the owner if they could trial the business first, and within six weeks they'd been to Bali to meet with the designer, and the shop was operational. "I don't have anything to do with the day to day running of the shop," she says. "But it's nice to be involved with a different sort of business – especially one that produces such beautiful clothes."
Does she see any further career changes, I wonder. Ford laughs. "I don't think so. I run the stores on my own these days, with my absolutely brilliant and loyal staff. I think I've done enough for one lifetime, but then again with the expansion of the dumpling business – who knows?"
Comments
comments