Julie Paterson's iconic patterns, inspired by the Australian landscape, grace houses and buildings around the world, including singer Jack Johnson's Byron Bay home, and the Byron at Byron resort.
When Cloth Fabric founder Julie Paterson first arrived in Australia from England twenty-odd years ago with a textile degree and two hundred pounds in her pocket, she thought she'd "give it a go for year or so".   With an already-bulging portfolio of textile designs, she went to see the bed linen company, Sheridan, who bought some designs from her on the spot, so Julie and her then-boyfriend could continue their travels around Australia in the traditional "army-green Kombi, with a dirty white canoe on top".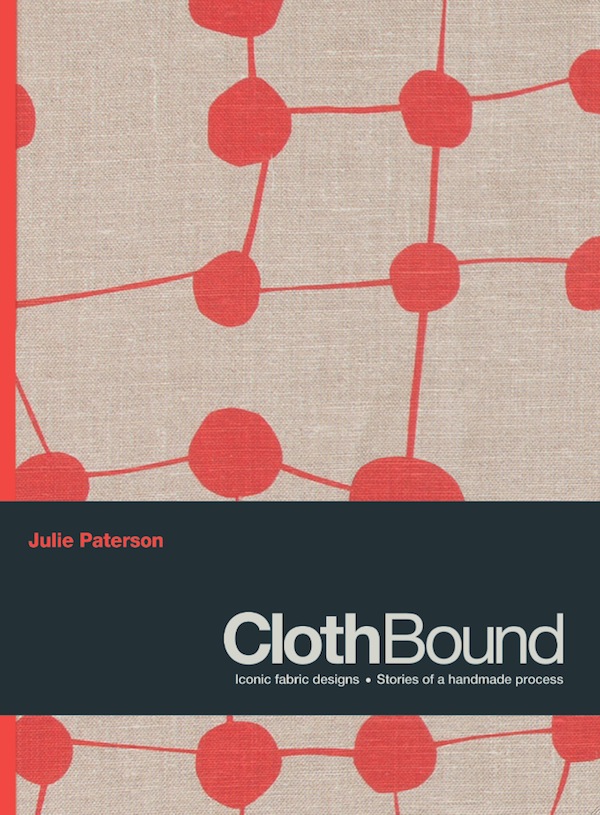 It's worthwhile noting Paterson's use of the words 'army-green' and 'dirty-white' because, as becomes obvious reading her wonderful book, ClothBound, the idea of colours, patterns and finding ways to offer them to the world at large was wired into her right from the moment she began to take notice of the world around her, including her mother's cheerfully garish use of loud 1970s furnishings: "slubby woven curtains in big brown and cream stripes, clashing orange and lime geometric printed vinyl wallpaper, forest-green cut-pile swirly patterned carpet…" It's a far cry from Paterson's now iconic textile design range with materials as close to their natural state as possible, and with much or her work a paean of praise to her adopted home, to the rich colours and flora of Australia.
Paterson's connection to the Byron Bay region lies in the amazing work she first did ten years ago for the Byron at Byron resort, which when it first opened its door, was, without doubt the most brilliant example of how textile design could link architectural design, the natural environment and interior design. Ten years later Paterson is working on the refurbishment of the resort and I've no doubt that the results will be as spectacular.  Paterson's artworks and furnishings are in resorts such as Heron Island, Hayman Island and Lord Howe Island – for those locals who have always wondered if Jack Johnson really did buy a house in Byron Bay, he did, and Cloth Fabric supplied much of the furnishings for it.
It wasn't long after she'd settled in Sydney that Paterson discovered the Blue Mountains. She'd started her first business, Print House Furnishings, with Penny Simons, a friend who had also travelled to Australia with her, but drawn towards living in a more isolated and natural environment, she settled on Blackheath, where, curiously, she and her partner Amanda Kaye, have owned the same house twice.
It was in the Blue Mountains that Paterson's innate artistry came to the fore – throwing away all her previous design 'rules' she began to experiment with – well, anything she could get her hands on. In the book, which is as tactile as a book can be, she writes that "Imperfection is our ally". With both she and Simons allowing themselves to experiment, there was no such thing as a mistake any more – even the craziest splash of paint had potential. It was the freedom of those decisions that has created the ongoing outpouring of not only fabric designs, but paintings, drawings and artworks of all kinds, that has established Paterson as one of the most inventive designers in Australia today. Wonderfully cheerful sections named simply 'curly', 'squares' and 'scratchy, for example, show the almost child-like pleasure Paterson takes in creation for creation's sake. (And if there is a personal lesson for me in this book – it's to never forget to 'play' with creativity.)
Living in the Blue Mountains, the natural world has impinged more and more into Paterson's ideas, and the Wollemi pine, discovered 20 years ago in a secret location, is one of her favourite reoccurring themes. "In the local language wollemi means, 'Watch out, look around you.' I like that – an ancient tree that counsels us to be mindful and to notice our surroundings."
Perhaps if the Wollemi could talk it would also agree with Paterson's credo: 'Simplicity takes time.' For those of us living busy, hectic lives, this book is a beautiful reminder of the power of surrendering to one's inner life, a testament to imagination, and a veritable treasure-chest of colour, beauty and inspiration.
---
ClothBound is published by Murdoch Books rrp $51.50, 238pp
For more information on Julie Paterson and Cloth Fabric go to: https://clothfabric.com/
Comments
comments