Belinda Jeffery's citrus orchard bears fruit and she's turned her favourite – blood orange – into a delicious winter salad.
When we picked up sticks 15 years ago and moved to our home in Byron Shire, the last thing I expected to find thriving in our humid climate were citrus trees. Yet they absolutely love it here, and despite our awful clay soil and at times, monsoonal rainfall, our citrus trees have flourished. We have limes, lemons, oranges and mandarin trees, and now at last, we've planted my favourite of all – a blood orange.
I love the way that the fruit looks quite plain on the outside, however once cut they reveal their startling crimson and tangerine-coloured flesh with its wonderful, rich orange flavour. The brilliantly-coloured juice would have to be the best breakfast eye-opener I know, however more often than not when I only have a few fruit I use them in this beautiful salad, which stretches just a handful of blood oranges into a stunning winter salad for four.
(BTW, if you're pushed for time, reduce the orange juice as per the recipe for the orange mayonnaise, but then just stir it into some ready-made mayo).
SMOKED SALMON, FENNEL AND BLOOD ORANGE SALAD
Serves 4
3 – 4 navel oranges, depending on size
3 – 4 blood oranges, depending on size
2 medium-sized (or 1 ½ large) bulbs fennel
Approx. 350g hot-smoked (also called smoked roasted) salmon fillets
Small mint leaves, to garnish
Orange mayonnaise:
1 cup (250 ml) freshly-squeezed #orange juice, strained
1 egg
200 ml olive oil
50 ml extra virgin olive oil
1 – 2 teaspoons white wine vinegar, to taste
2 teaspoons freshly squeezed lemon juice
1 teaspoon sea salt, or more to taste
# If by any chance you have a plethora of blood oranges, use the juice in the mayonnaise – it gives it a lovely flavour and soft pink hue.
For the mayonnaise, pour the orange juice into a small saucepan and sit it over high heat. Bring the juice to the boil, then leave it to bubble vigorously, swirling the pan regularly, until it has reduced to about 2 tablespoons of syrupy juice. (Keep an eye on it towards the end of the cooking time as it scorches easily). Remove it from the heat and let it cool a little.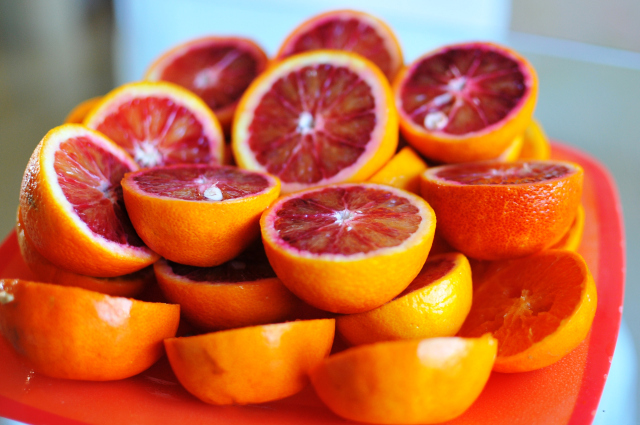 Plop the egg into a blender, and then with the blender going, ever-so slowly dribble in the olive oils. Basically you're making a thin mayonnaise, so start off by dripping the oil in and then slowly increase the rate so a fine thread of oil streams in – the mixture will thicken as more oil is added. Finally, with the blender still going, pour in the vinegar, lemon juice, reduced orange juice and salt. The mixture will be a little thinner than
regular mayonnaise but that's fine, as it should have more of a sauce-like consistency. Taste it and adjust the salt/lemon/vinegar balance to suit you,then scrape it into a container and store it in the fridge until you need it
(you can make it a couple of days ahead of time if you like). It's best to get all the salad ingredients ready before starting to put this together. Peel the oranges with a very sharp knife, making sure no white pith remains, then cut down between the membranes to release the segments into a bowl. Halve the fennel bulbs and slice them very, very finely (a mandolin is fabulous for this) and flake the fish into nice chunks.
To assemble the salads, spoon a little orange mayonnaise into the middle of each plate and sit a small pile of fennel strips on top. Scatter some orange segments over the fennel, then top these with chunks of smoked trout. Drizzle a little of the orange mayonnaise on top then repeat the layers, finishing off with a tiny bit more mayonnaise and a scattering of mint leaves. Serve any remaining dressing separately.
---
To find out more delicious Belinda Jeffery recipes go to: belindajeffery
Comments
comments