Tintenbar Hall is home to a varied programme of music all-year round, thanks to Peter Lino and Narelle Walker, writes Heidi Flumm.
In the quiet surrounds of the Byron Bay hinterland, just moments away from the bustle of the Pacific Highway, lies the unassuming village of Tintenbar. And in amongst the rolling green hills sits the Tintenbar Hall, which was built over 100 years ago.
The Hall has borne witness to many changes in the region, but it's role as a focal point for the local community has been unwavering. Country halls have been experiencing a resurgence in popularity recently, with a growing desire to return to a more intimate, personal engagement with music and performance.
The Hall's schedule of events includes live concerts throughout the year by both local and international musicians, as well as a monthly exploration of musical talent – Tintenbar Up Front – which has been organized by locals Peter Lino and Narelle Walker since October 2012.
Peter's plans for the hall were some time in the making. "I'd been toying with the idea for some years before actually beginning," he says. "I wanted to have somewhere to play myself, in an Open Mic scenario, but without the noise and interruption from the usual pub setting."
Sighting Tintenbar Up Front as a venue and an opportunity for local people to engage in music outside of the "noisy, busy environments" of the Byron-shire, Peter and Narelle's vision for the Tintenbar Hall has been to provide a supportive environment where musos can indulge in the sheer love of performance.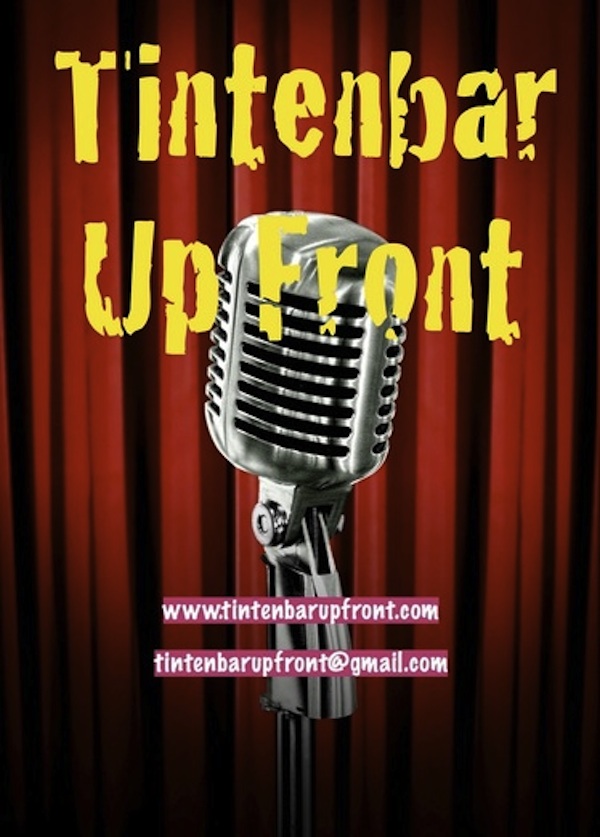 "We started with the idea of being a place where musicians and other performers could play to an audience, the community could get together and be entertained, and maybe we would raise some money for charity," says Peter. "We've certainly accomplished all of those things. Over $23,500 has been raised for a variety of charities."
The TUF evenings now host a range of musicians, including amateur performers and those whose experience in the industry has taken them around the globe and planted them on the doorstep of the village hall. Performances also extend beyond music alone, with moments of poetry, comedy and dance thrown into the mix. Audience turnout ranges from 60 around 120, with a frequent (albeit chivalrous) battle for seating in between the tea and cake intermissions. Local chef Bev Singh provides an Indian banquet on regular occasions, and charitable groups often provide an opportunity to feast and donate at the same time.
 In response to the audience's growing love of the intimate music scene, Peter's expanded his vision for the live music evenings into a brand new platform for both hall and home-based concerts called 'Home Made Jam'. "HMJ fledged from a conversation with musician Brenan Gallagher," says Peter. "He contacted the Hall to come and play. He loved the shows intimate setting and was finding it difficult to establish shows of that nature."
 Having gained momentum over the past year, the HMJ platform is now a web-based listing site that extends to all musicians around Australia and New Zealand and provides an online profile of the artist that potential 'hosts' can access. It provides an opportunity for musicians to play to an intimate, captive audience, both within the local hall and private homes. This notion has become increasingly popular in today's Australian music scene, with other sites such as Parlour taking off around the larger cities. Says Peter: "People can find artists for shows, weddings, parties, functions. Musicians can find places to play. It's been going about nine months and is growing steadily. House concerts are a huge part of the music scene in N. America, and are growing in popularity here."
Singer-songwriters who have already signed up to be a part of the HMJ platform include Lennox Head musician Claire Anne Taylor, who's musical career has bounded forward in the last 12 months with radio play across Triple J, Double J, ABC Radio National's 'The Inside Sleeve'. Other notable musicians, who have been involved with the Hall's concerts, TUF and HMJ sessions include the wonderful travelling troubadour Abbie Cardwell.
Youtube video of Abbies performance at TH: youtube.com/watch
Lennox Head based musicians, MJ Turner and Shelley-May, have both signed up to the HMJ initiative and have used the TUF as an opportunity to gain valuable experience performing in a live setting, in the lead up to further performances in the area. Local musician Pat Tierney played at the April TUF, alongside recent gigs at The Farm in Ewingsdale, The Treehouse at Belongil and Black Bear Lodge in Brisbane.
 One local audience member, Mavis Strong, has been coming to the hall for 88 years, since she was a little girl and still attends the regular events each month. Mavis tells me that the Hall's events are a wonderful part of the local entertainment scene, claiming: "I can't believe that so much life has been brought to the hall."
 It would seem that the desire amongst local music fans to experience live performance in a quiet, peaceful setting is very much alive and Peter is intent on tapping into what opportunities this presents for music, both in and around the Northern Rivers and beyond.
The next event at HMJ at Tintenbar Hall is:
​Freya Josephine Hollick
Saturday May 28, 7.30
Tickets: $20
The next TUF event is:
Friday May 13
A loyal band of helpers currently assist Peter and Narelle in the running of the Tintenbar Hall events, but additional volunteers are warmly welcomed.
If you would like to get involved you can visit:
Online:
Facebook: www.facebook.com/tintenbarup
HMJ: https://homemadejam.net.au/
Facebook: www.facebook.com/homemadejammusic
Photography Heidi Flumm
---
For more information on Heidi's photography go to: heidiflumm
Comments
comments