Ever since the dawn of time humankind has been searching for answers to the meaning of life.  Next January Byron Bay will host the third Afterlife Explorers Conference with local broadcaster and author Barry Eaton as MC.  Verandah Magazine has two free two-day passes to give away – simply leave a comment in the box below or on our FB page to be in the draw.
It's been a big year and boy, have the months slipped by.  2016 started quietly enough for me, but soon the pace quickened as the hectic events of the year unfolded. Numerology put me in a five year, so I was ready for the changes that would inevitably come. (A recent guest on my internet radio program RadioOutThere.com summed it up when she compared life to a toilet roll. "The further you get into it, the faster it goes". That's some philosophy, wise words from a former academic!) The year really kicked off with a trip to Melbourne in late January to MC the second Australian Afterlife Explorer's Conference and also give a talk. The initial conference was in Sydney the previous year.
The founder and director of the Afterlife Explorers Conferences, Mick Turner, had a near death experience, (NDE) as a deep sea diver in 1998. He followed this with past life regressions, which revealed the link to this life. It inspired Mick to investigate the whole question of the afterlife and ultimately share the knowledge with the Australian public.
There was a strong theme of subjects relating to NDEs in Melbourne, with the keynote speaker PMH Atwater from the US leading the way. PMH is considered one of the world's foremost authorities on NDEs, and gave two very stirring and thought provoking presentations. She experienced three NDEs in 1977 which led to a series of best-selling books, and many people in the audience were able to relate to the events which transformed her life.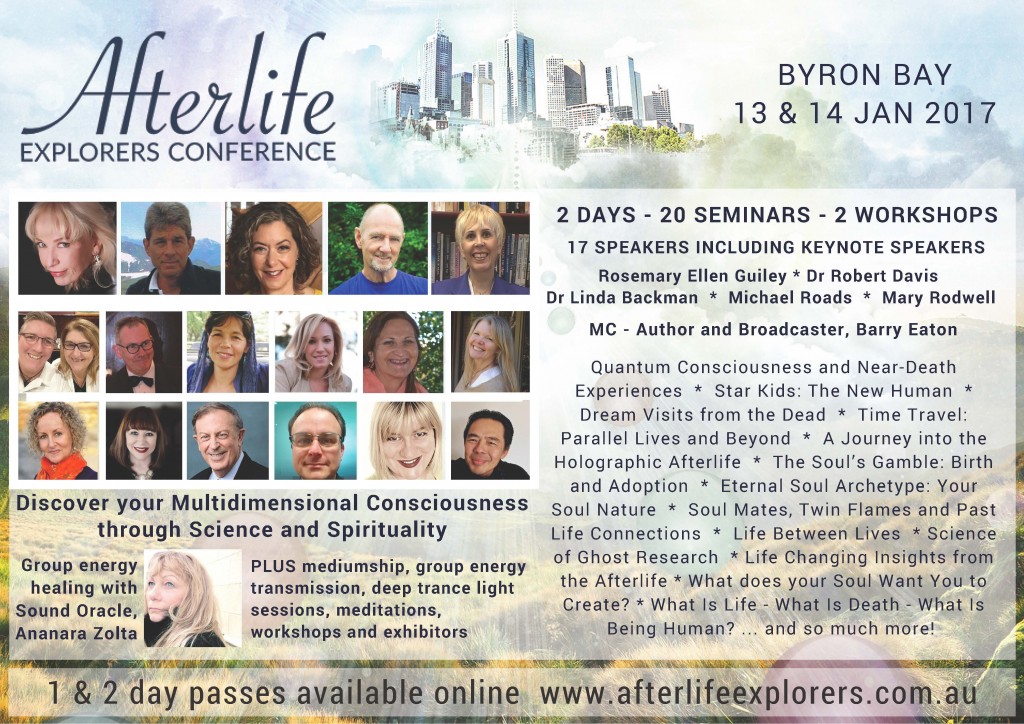 The success of the first two Afterlife Explorers Conferences means that this important event has now become a fixture on the spiritual events calendar in Australia.  Once again I will be the MC in the theatre, and my presentation, based on my books Afterlife and No Goodbyes is called 'Life Changing Insights From the Other Side'.
The line-up of speakers is impressive for the afterlife conferences. Many people might expect an event of this nature to mainly feature a collection of new age authors, mediums and spiritual gurus , many of the presenters have a scientific or mainstream background and approach the whole question in a very down to earth way (pun intended!). However the spiritual connection is an important factor in every presentation.
The 2017 conference includes topics as diverse as Quantum Consciousness and Near Death Experiences, Identifying embodied ET Souls, Dream Visits from the Dead and The Science of Ghost Research.
International keynote speakers include Dr Robert Davis (USA), Professor of Neuroscience for over 30 years at the State University of NY in Neuroscience and electrophysiology; Rosemary Ellen Guiley (USA), author of 60 books on metaphysical, paranormal and unexplained phenomena; and Linda Backman (USA),  a psychologist specialising in soul regression hypnotherapy.
There is also a very impressive list of Australian speakers, including Mary Rodwell, a world leader in the exploration of 'Star Seed' children and their role in awakening human consciousness and Michael Roads, a modern mystic and author of 20 books on his experiences and explorations of alternate realities and dimensions.
Colleen Dooley, a former resident of Byron Bay will speak about The Life Between Life Experience (LBL). Colleen moved to Melbourne in 2015 having founded of the Institute of Hypnoenergetics, but loves coming home to spend time in Byron Bay whenever possible. Colleen will speak about the life and work of the late Dr Michael Newton, founder of the LBL Spiritual Hypnotherapy and author of such iconic books as Journey of Souls and Destiny of Souls.
I had a past life regression with Colleen in 2012 for my book No Goodbyes, which helped me revisit lives in Central America, and in the Middle East. I was delighted when Colleen told me this week that she will also be speaking about past lives.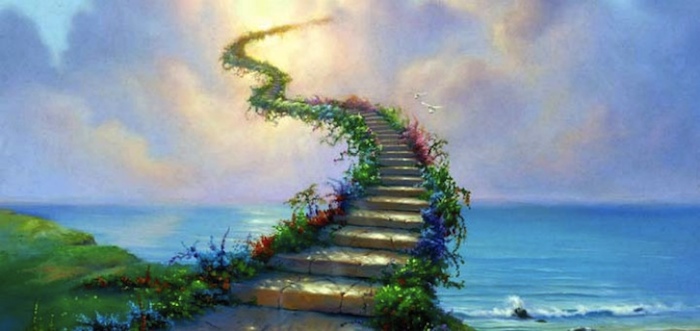 Well known Sunshine Coast medium Julie McKenzie will be doing platform demonstrations on centre stage during the lunch breaks and people will be able to enjoy their lunch with the potential bonus of connecting with a loved one in the world of spirit.
Each day begins at 9.00am with an audience meditation conducted by healer and spiritual coach Richard Yiap, who is also one of the speakers. The first day's program concludes with a special energy transmission by intuitive advisor Elisabeth Robinson and the conference wraps up with a sound healing by 'sound oracle' Ananara Zolta.
There are also two special workshops conducted by Rosemary Guiley on the Friday night and Linda Backman on Sunday January 15.  Verandah Magazine publisher and editor Candida Baker will be the  MC for the talks in the Cavanbah Room.
---
The third International Afterlife Conference will be held at the Byron Theatre (Community Centre) between January 13-14. For more information about the program and the full list of speakers go to: afterlifeexplorers
To win one of two free two-day tickets, leave a comment in the box below saying why you would like to go to the conference, or on Verandah Magazine's Facebook page: facebook.com/verandahmagazine
Comments
comments