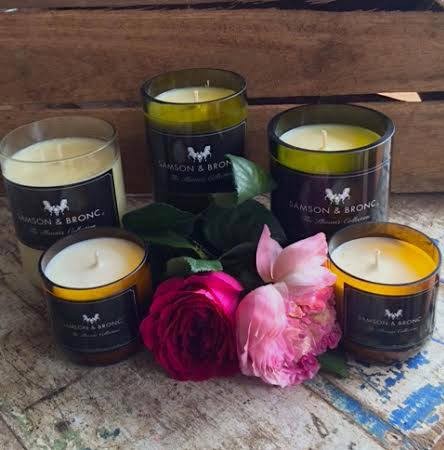 These beautiful hand-made soy wax candles in recycled bottles come from local Northern Rivers designers Samson & Bronc – who have a special story behind their Mother's Day Bulgarian Rose candle.
Sam remembered his mother talking about his great-grandmother and great-grandfather, and the rose garden they'd created together in the garden of their villa in Bulgaria. "My great-grandfather, Frank, was an English diplomat and Eva was an Irish nurse, and they met in Varna where they married and had a family. They had a huge garden, and they filled it with roses. When the second World War broke out, my great-grandmother had to leave Bulgaria for England with her five children. She never saw Frank again. He was killed in Egypt, but many years later Eva showed my mother letters from him talking about how one day they would recreate their Bulgarian rose garden."
When Sam also discovered that Bulgarian Rose Otto was the most highly prized fragrant essential oil in the world, the story and the perfume came together.
"We chose Bulgarian Rose for so many reasons – roses are a symbol of love," he says, "and this candle is created for a love story – we're proud of this candle, and we hope it lights up your Mother's Day."
---
Get your Samson & Bronc Mother's Day Candle from The Harvest Deli, Flowers at the Farm, Bangalow Post Office, Millar & Moore and various Loot stores.
To order online go to samsonandbronc/candles/
Comments
comments