It's an idea beautiful in its simplicity – a food stall within the local farmers' markets, selling dishes prepared with produce directly from the other market stalls.  The Nomadic Kitchen's Robert Costanzo many fans love his ethos of cooking food true to his Sicilian roots, and his  committment to sustainable, local farming writes Paula Hagiefremidis.
'Here…try this…'  Chef Robert Costanzo darts to a serving plate from the shelves of his food cabinet and scoops up a spoonful of lentils. The aroma of fresh mint and thyme offer me little opportunity to decline  – even if I wanted to. I swallow a mouthful and nod my head 'yes' when he asks if it tastes any good.
While I absorb the flavours of the lentils, Costanzo is already assembling plates for morning breakfast orders at the farmers market. The silky yolk of a fried egg with its white body singed around the rim from the subtle burn of the fry pan, offers a delicious crackle in the mouth when you bite into it. He arranges a slice of local sourdough charred from the coals of the burner with a quick rub from a fresh nib of garlic and serves it with the sides of the day.  It's hard enough choosing from the savoury menu but it's made all the more difficult by the equally delicious desserts Costanzo's sister, Michelle serves.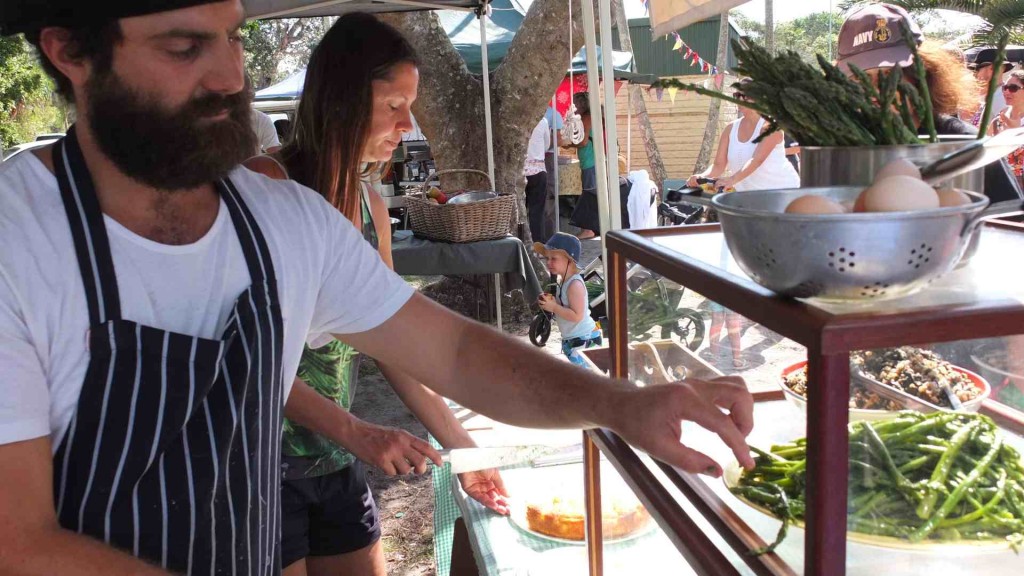 Costanzo has gained quite a following. Sold out cooking classes, pop up dinners and the countless private cooking requests spread by word of mouth are testament to his style of rustic Italian food – and his engaging personality.  But the polished plates from satisfied customers  didn't always start off by piling up so high and I am surprised when Robert informs me that he had a hard time fitting in.
'People were reluctant to try my food at first," he says.  "In Australia you either eat cereal or bacon and eggs for breakfast'. The food at Costanzo's stall – green beans cooked in red wine and vinegar, chickpea bruschetta or cooked zuccini coated in olive oil and fresh herbs are more usually associated to a serving platter of antipasto, not morning breakfast. But for Costanzo, this is typical of meals on the farm in Stanthorpe with his Sicilian family.
When he recounts the times he spent in the garden collecting vegetables with his grandfather for his grandmother to prepare and cook, it occurs to me how  food can serve as an anchor to keeping relationships – even those from our past alive. I enquire a little further, and discover that the family foundations feature strongly even in his kitchen equipment – from the three legged charcoal burner made by his father Mario, a collection of knives from fellow chef friends, to the serving tray that originally belonged to his grandmother that has now faded in colour, time erasing what Constanzo tells me used to be a lemon yellow penny farthing bike featured in its centre.
Costanzo's chance introduction to cooking came through a work experience opportunity initiated by his cousin. He enjoyed the experience and continued on to a prestigious award winning French restaurant in Brisbane but his time there soured his impressions of what it meant to be in the kitchen. The disassociation of the produce from its origins weren't in keeping with his ethics and the knowledge he'd gained as a result of growing up on the property.
When he visited Stanthorpe the kitchen staff would marvel at the quality of the produce he would bring back to Brisbane, surprised it had been grown here, in Australia. When we touch on the topic of small farming he explains how supermarkets crippled the industry in Stanthorpe, affecting the potential for future generations to harness the knowledge of farming, a prospect that he sees currently happening on a global scale with dire outcomes for sustainable living. Part of the appeal of working in Byron Bay was due to the high standard of produce available in the area and the respect and consideration toward small farmers.
A stint in Europe saw his beliefs confirmed through the business structure of two enterprising women – Rose Grey and Ruth Rogers of the famous River Cafe in London. 'It was all about food and produce. These two women have completely changed the face of how people eat in the U.K," he says. "They've produced amazing offspring from it, a lot of  the TV chefs we see come from there."  His two-and-a-half years at the Café reinforced the principles with which he was raised – the critical importance of having good relationships with your farmers and the value of the knowledge that is exchanged through those relationships.
On his return to Australia Costanzo had planned to pass through Byron Bay to help his sister Michelle sell apples at the farmers' markets for a short while, but the potential of a food stall sparked his attention. He initially put in an application for the Tuesday markets at New Brighton and the rest fell into place.  These days customers can enjoy not only Costanzo's delicious food, but have a choice of desserts from Michelle.
Costanzo assures me he is content at the moment serving his grandmother's food to us for a while longer  but as the Nomadic Chef name implies (taken from a journey to Mongolia and spending time with the nomads in their yurts), there is always the chance for globe trotting adventures to steal him away from us.  But at least for the time being the weight of an increasing line up to order his food, the bartering exchange of chillis, passionfruit and the like from neighboring stall holders for morning breakfast will be sufficient to keep the Nomadic Chef still a little while longer.
The Nomadic Kitchen is at the Tuesday New Brighton Farmers' Market, Thursday's Byron Bay Farmers' Market and Friday's Mullumbimby Farmers' Market
Comments
comments